Despite what Time Magazine says, *WE* are not the most important people on the Web. PC World has just published the list of The 50 Most important people on the Web.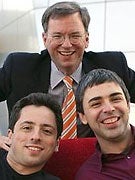 Topping the list is the Google Triumvirate – no surprises there. Steve Jobs in the #2 slot? Hm, I don't know… and BitTorent #3?
I'm certainly happy to see Wikipedia Founder Jimmy Wales in the 5th position and Craig(slist) Newmark in no 7. To be fair, I am biased, happy for them, not sure whether those are the right slots …
Youtube's Chad Hurley and Steve Chen are #10 – but wait, they are now a Yahoo property, and their "owners" (Oops, my bad, pre-coffee mistake, of course Gootube is part of Google… thanks to Christopher for correcting me) , Jerry Yang, David Filo, and Terry Semel only come in slot #19!
On a personal note, I'm glad to see several blogging personalities recognized, including Robert Scoble (Scobleizer), Mike Arrington (TechCrunch), Dave Winer (Scripting News) as well as those who significantly contributed to the blogging infrastrucure: Matt Mullenweg (WordPress), Kevin Rose (Digg), Gabe Rivera (Techmeme), Rob Malda (Slashdot).
Now, of course if PC World really wanted to live up to the Open Web, they would have concluded the article with an open poll, letting *us* come up with our own ranking….
Related posts: HipMojo.com, Guardian Unlimited, Blogtronix , Now I Have a Blog Too ,
Good Morning Silicon Valley, WOW Insider, Rex Hammock's weblog, Scobleizer, Mark Evans, 901am, and The Other Here
Update (3/05): A funny quirk on Techmeme: The Yahoo News version of the PC World article gets all the exposure while PC World's own blog entry that points to the article sits separated in an obscure corner. Update to the update: they are now merged.
Tags: pc world, top 50, influencers, web's top 50