My regular readers know I'm a big fan of wikis. There is just no better way for collaborative group work. If I started a company today, we'd have a wiki from Day 1. Gartner predicts 50% penetration to business by the end of 2009 – that's Gartner, that's only 50% and that's 3 years away. That leaves a large number of businesses unserved, and a huge opportunity to enable them to collaborate without changing the way they work.
Today the #1 productivity platform in business is still Microsoft Office. A typical "knowledge worker" creates documents, spreadsheets, presentations on her/his desktop, tries to maintain order by diligently filing them under an ever-growing directory-structure and shares the information by emailing the files around. When several co-workers need to contribute to a document, version chaos ensues. Document management systems are supposed to ease the pain, but they are big, expensive, and surprisingly (?) only 5% of office workers actually use them.
Koral, a content collaboration startup debuted a few months ago has a strong change to change it all. It pursues a very simple idea: allow users to share information, give them access to the most recent version of all documents, whether the latest update is on their desktop or someone elses, and guide them with several popularity/ usage indicators, i.e. most accessed documents, most active contributors, best rated experts ..etc – do it all without forcing users to change how they work today.
They can continue individually working on their desktops, and all they have to do is drag the documents to be stored into Koral's drop-box on their desktop. The document is instantly uploaded, fully indexed, auto-tagged based on content, and for certain document types (for now PPT) flash previews are generated. The user does not have to be logged on to the web-based system, although doing so allows for additional categorization, tagging, permissioning: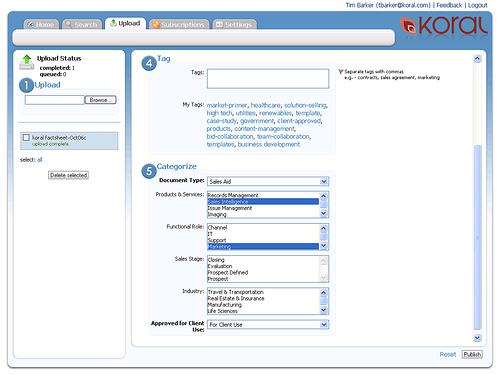 All this information becomes the foundation of easy document retrieval. Gone is the directory jungle where files are replicated and lost: it's all about tagging and powerful search. Search, which can based on simple keywords, boolean expressions, or multi-step, clustered search where a friendly interface helps the user create further filters based on content, file formats, tags, categories, author ..etc until the number of matching documents comes down to a handful – at which point the online previews come handy.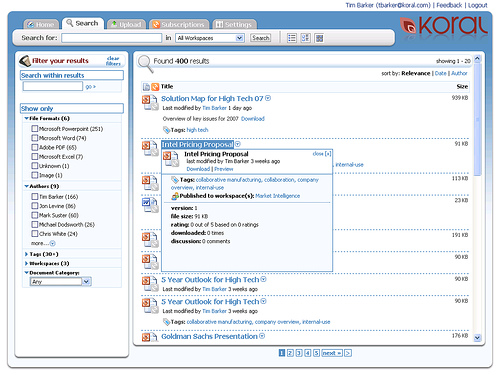 Once you found what you're looking for, you can download your document, or subscribe to it, giving you alerts any time the document is updated. The subscription mechanism goes beyond just notification: it's the foundation of document synchronization. Koral places a tracker the local (desktop) document, so it will know who has what version at any time. When you access a local document – open it, or even attach it to an email – Koral will warn you if you don't have the most recent version (i.e. someone else has updated it online) and of course offers to replace your old copy.
Sync goes a step further: how often do a few "core slides" get replicated in dozens of corporate presentations? Or a key spreadsheet embedded in various other documents and slides? Koral can refresh all these second-generation documents when the core slide/spreadsheet changes – i.e. your numbers are magically updated.
Stepping beyond traditional document management there are a number of social networking / bookmarking features: documents can be rated, commented on.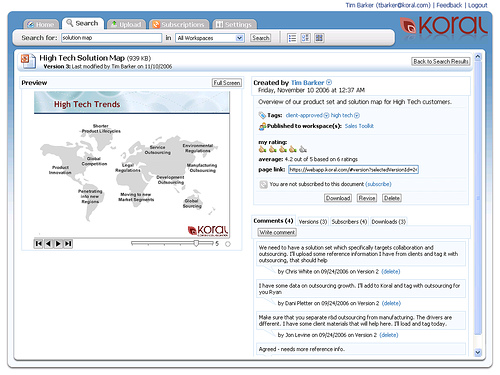 The document summary page above shows the average rating, number of users who rated the document, number of downloads and subscribers, and comments, on top of the standard document attributes like creation date, author, version number.
Koral is currently piloting a version with select customers where they can provide ranking statistics based on some of the above information: most frequently read, downloaded, subscribed document, most discussed document, most popular post or author, most popular tags ..etc. Needless to say you can subscribe to authors, tags, categories, not just individual documents. All this essentially supports better information discovery rather than just explicit search for information you already know exists.
Finally, some of the best applications are when you don't even notice you're working with Koral: users of Salesforce.com can discover related documents and attach them to the lead / opportunity record without ever leaving the salesforce.com environment.
Talk about mashups …Koral itself is a "bridge" product, enhancing the productivity of largely offline users (working in MS Office) by offering an online service. I would love to see them move further on the offline/online continuum by offering online tools to not only preview but actually edit documents online – the recent Zoho-Omnidrive mashup is a good precedent to follow.
For additional information, check out the demo video by Tim Barker, VP Products, and Robert Scoble's interview with CEO Mark Suster.
Tags: koral, microsoft office, ms office, ecm, content management, document management, content collaboration, collaboration, saaS, search, content discovery, salesforce.com, zoho, office 2.0