Archives for October 2008

Posted on
October 31, 2008
·

Posted on
October 30, 2008
·
A U.S. patent appeals court ruled on Thursday that business methods, such as Amazon.com Inc's  one-click to buy goods on the Internet, cannot be patented.
This is great news for innovation.  Why?   I leave the analysis to Techdirt's supersmart Mike Masnick: Court Greatly Limits Software And Business Method Patents. 
(Cross-posted from CloudAve)
Related articles by Zemanta

Posted on
October 24, 2008
·
Screenshot from Yahoo Weather this morning: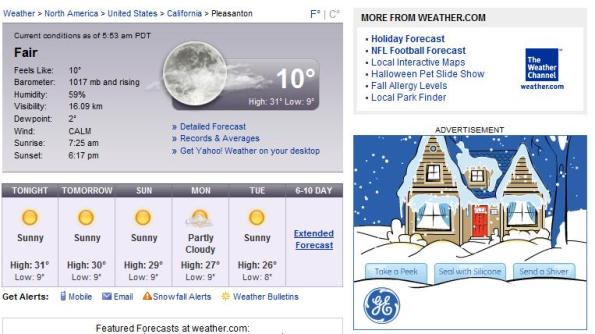 We're expecting heat today, and Yahoo (weather.com) placed a snowy pic, offering all sorts of winterizing services along with my forecast.   I guess it did not notice the weather display was in Celsius, and 31C is about 88F.
For more advertising blunders see:

Posted on
October 23, 2008
·

Posted on
October 21, 2008
·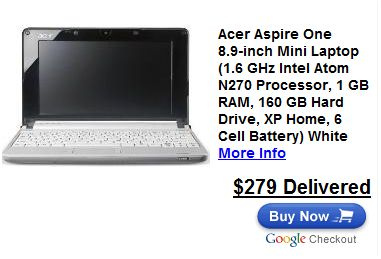 I know netbook prices are dropping, but not this fast!  Just a day after hearing about a $309 deal here's an ad for a higher-end Acer Aspire One, for $279, shipping included!
The lowest price for this configuration so far has been on Amazon, @ $399.
I am speechless… this looks too good to be true.  I can't find any info on the vendor (BeneficialTech.info), there is a contact email but no phone number – – but they have Google Checkout.
So I leave it to my dear readers to decide: do you think this is real or a scam?

Related articles by Zemanta


Posted on
October 21, 2008
·
The New York Times presents the perfect showcase for what I've been preaching in my recession / business models mini-series:
turn to businesses
stop poking around, create a valuable service
charge for it (yes, revenue is not a crime)
The showcase compares Twitter vs. Yammer and their categorically different approaches to business.
Twitter is the leading micro-blogging service – they have a strong brand with zero revenue.
Yammer , riding on Twitter's coattails has followed the exact opposite model: focus on revenues from Day One.
Is one model better then the other?  Are they both sustainable, especially in a downturn?

Posted on
October 20, 2008
·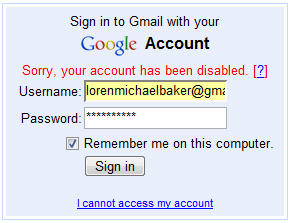 Loren Baker, Editor of Search Engine Journal discusses his experience of getting his Google account frozen without a warning.  Nothing new, we see these cases every few months. If you're a well-know blogger like Loren, getting resolution might take 15 hours –  I don't even want to think how long it would take for less prominent users get their account issues fixed.
There are a few things we can all learn from Loren's case:
Communication – $50 buys you Phone Support
Backup – offline, within Google or another Web service
Your Domain – should be a no-brainer for Branding reasons anyway, and when all hell breaks lose, allows to quickly switch to another provider.
I'm discussing these and other steps to avoid disruption on CloudAve. (To stay up-to-date on SaaS, Cloud Computing and Business, grab the CloudAve Feed here).
Related articles by Zemanta


Posted on
October 18, 2008
·

I've never particularly liked Uncov, the anti-web 2.0, anti-startup, anti-everything rug.  Not that it was always wrong: it's criticism was often well-deserved, just a bit too vitriolic for my taste.  But vulgarity is popular, and titles like  I'm Going To Scale My Foot Up Your Ass certainly grabbed attention.
Of course it's always easier to criticise than actually build, and for Uncov editor Ted Dziuba the opportunity to put his money where his mouth was came when he finally launched his own startup, Persai – soon renamed Pressflip.   To focus on the startup, Ted and his fellow authors shut down Uncov.
Will Pressflip make it?  Too early to say, but TechCrunch wasn't too positive about it a few months ago.  (they can always rebrand it again, this time to Pressflop).
A few days ago Uncov came back to life, but with a twist: it opened up to guest bloggers.  And here's Dziuba's Ars Poetica, which perfectly sums up why I still dislike Uncov:
If you want to blog at uncov.com, it should be in the style of Uncov. It doesn't have to be technical or nerdy, and you should feel free to take shots at people, so long as you do it in the Uncov fuck-you-and-everyone-that-looks-like-you fashion.
The latest twist in the story: Ted Dziuba has just quit Pressflip.
I'm leaving for personal reasons: mostly because I'm going to be a father in March and need some stability, but also because I'm tired of the fight.
The announcement is on Ted's personal blog, not Uncov. It probably does not meet Uncov standards.  For the first time Ted Dziuba sounds perfectly normal. Family man. Human.
Related articles by Zemanta