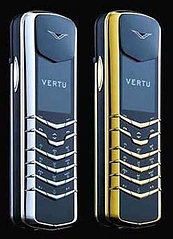 "The luxury unit of the world's top mobile handset maker Nokia, Vertu, has seen strong demand this year and is struggling to increase production to keep up, a senior official said on Thursday.
Vertu targets wealthy customers by producing very costly mobile phones made from platinum, gold and diamonds.
"At the moment we cannot meet demand. Sales are more than doubling this year. We hope that pace will continue also next year," Chris Harris, Vertu's marketing director, told Reuters on the sidelines of a news conference." (Reuters via WeirdTechNewsHub)
Geez, Jeff, you've got the wrong one!

Tags: nokia, vertu, cellphone, mobile+phone, handsets, gadgets, luxury, cellular