The heated debate over the fate of the Enterprise 2.0 entry in Wikipedia ended in a compromise – it would stay under Enterprise Social Software. Back than I said the debate was largely irrelevant:
Enterprise 2.0 as a term my be relatively knew, but it's not some theoretical concept a bored professor is trying to sell the world. It's a disruptive change, a confluence of technological, social and business changes in how corporations conduct business using new IT tools. No Wikipedia gatekeepers can prevent this seismic shift. Let's move on, do our work, and in less than 6 months Enterprise 2.0 will find its way back to Wikipedia.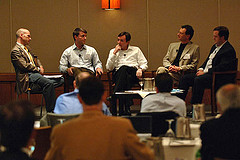 Not in 6 months, but in 3 a lot has changed and the term is gaining de facto acceptance. Case studies on Enterprise 2.0 penetration, panel discussions, analyst writeups, (thanks, Susan, for spotting it), and now a full-blown conference. CMP Technology announced the renaming of the Collaborative Technologies Conference to 'Enterprise 2.0 Conference'. If this is not full vindication of Enterprise 2.0, then I don't know what is (well, actually, I do – more penetration into business day by day…). On a sidenote, it's worth observing how as the term becomes "fashionable", new players claim ownership. The current Wikipedia entry barely resembles to the original, Harvard Prof. Andy McAfee is mentioned in a footnote only, and the most prominent entry is about a US Service Mark filed on May 25, 2006 by Alvin K Chang. I have no clue if he is related to CMP Media, or just the opposite, he tried to prevent assimilation by them (for good reason), all I know is that if "Enterprise 2.0" can be "owned" by anyone, it should be Prof. McAfee. Of course, knowing Andy I think he cares more about practical adoption in business then about turf-wars.

Tags: irregulars, enterprise 2.0, enterprise social software, social software, wikipedia, cmp media