Here's another case of contextual advertising producing really, really inappropriate results: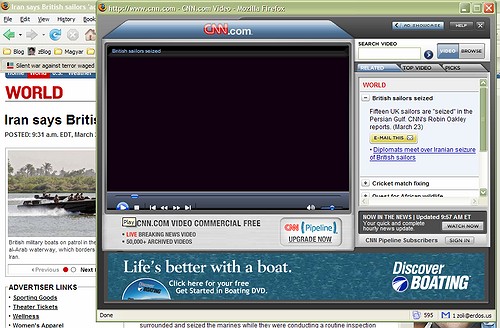 I was watching the CNN video about Iran kidnapping British Navy personnel from their boats, when the ad in the bottom slid in: "Life is better with a boat.  Discover Boating".  Yeah, right.  I'm sure the 15 British hostages agree right now.
A previous case of unfortunate ad placement also includes boats. Yahoo Headlines talk about the Katrina Catastrophy, Navy ships and rescue teams rushing to the region, while the associated ad reads: "Down the Shore… Enjoy the last days of summer."
By far not as tasteless as this one from Southern Comfort:  "Born in New Orleans (where anything can happen)" – right after Katrina.

(credit to Jeff Clavier)
This last one actually goes beyond just a "blunder": as proven by a job ad, it was not a case of unfortunate timing, but intentionally tasteless, exploitative advertising.
Related posts: