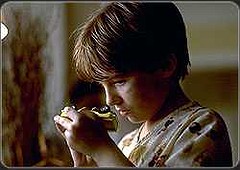 Simon Lynch, the autistic child Bruce Willis is protecting in Mercury Rising has a special talent, which puts him in danger when he innocently breaks the "unbreakable" National Security Agency code. Raymond, Justin Hoffmann's autistic character in Rain Man has amazing memory and outstanding mathematical capabilities. These two are likely the first two characters most of us think of when hearing the word autism.
The two film characters are not typical though: they are autistic savants, having developmental problems combined with extraordinary mental abilities in a particular area. They represent a small fraction; most children with autism don't excel any any particular area, they are average, normal kids – but they lack the ability to interact, socialize, communicate.
Quinn, the adorable boy in the video above writes a lot. His parents did not teach him, they just caught him writing out the full credits of films he saw. He is a Read/Write kid – but he lacks verbal communication, as most children with autism do. They tend to focus a lot on a narrow area of interest, often mechanical, moving things, have a good memory for visual patterns, and prefer predictability, regular patterns.
Siddhu likes to draw … a lot. His favorite objects are cars, and anything that have to do with cars – mostly keys. When he was 3, he often got obsessed with precisely drawing car keys repeatedly for hours, until he got it right. Yet his communication skills were close to non-existent. Some of the "normal" things we take for granted are a major milestone for autistic kids – just look at this breakthrough in Siddhu's life, told by his father:
"Today my son achieved a breakthrough. Usually I get him ready for school in the morning. After I seat him in the school bus, I come out and wave. He would just stare at me through the window. Today, he smiled and waved back – something that he hasn't done before.

Recovering from autism is a series of these successes. What appears so natural that we overlook it in a normal child is Herculean effort for these kids. I am happy he made this breakthrough today. "
Quinn's Mom is an 80's music fan – she and I must be of the same generation. In the 80's when she was chasing her favorite bands to pose with, 1 out of every 100,000 children were diagnosed with autism. By the time she gave birth to Quinn, that ratio was 1:160, and for boys it's 1:100. Yes, it means 1% of every boy born today will have autism. That's a significant ratio, and an alarming rate of increase since the 80's. At this rate sooner or later we'll all know someone with an autistic child.
Until yesterday my ignorance put me in the camp whose understanding was limited to Rain Main and the "Bruce Willis kid" – now I've spent hours reading up on the subject, and I don't regret it. What prompted me to do a little "research" (I'm hesitant to call it such; half a day into this is nothing compared to the ongoing research that becomes a lifestyle for parents involved) was an article by Robert Scoble. Having finished an interview with Adventnet (better known for their Zoho brand) CEO Sridhar Vembu, they "got personal", and as often the case, the really interesting discussion came up off-camera. Now Robert has a better understanding why Sridhar isn't worried about Google or Microsoft when he wakes up at night.. his got bigger things to worry about:
"Dealing with autism has brought a different perspective in life: almost everything looks like a small challenge compared to this. Having him speak fluently is the equivalent of winning the Nobel Prize for me and my wife."
Sridhar and his wife are taking a very active approach to treating their son. Behavioral treatment is the established course for autism; however, Siddhu's parents subscribe to the theory that vaccinations, and particularly mercury contamination may be the cause, and they took their son to several courses of biochemical treatments.
The following to videos from NBC talk about the mercury-theory and an aggressive type of treatment, chelation.
Chelation, and mercury-contamination as primary cause are highly controversial – however, some parents clearly feel they don't have other choices left. If treatment can be be successful at all, it has better chances at early stages, so they feel they don't have the luxury of waiting for the medical establishment to clear the way. (Talk about "luxury", not all families can afford these treatments, some costing $50K and more).
The Scoble article sparked a heated debate amongst commenters – mostly parents of kids with autism. The dispute around the merits of biomedical treatments, vaccination as a cause are not surprising – but I am seeing another battle-line drawn, between those who are seeking to cure autism, and those who reject a "cure", since autism is not a disease, not a developmental disorder… it's just the way some people are, and that's all right.
Adam is 5 years old, and has autism. Her Mom is doing everything she can to give him a full, happy life, and as she blogs in Joy Is Not An Outcome, he can't spend his life maximizing therapy, struggling to become "normal". He needs to be a happy boy, today and every day. This is what his Mom wrote on his 5th birthday:
"Today, on his 5th birthday, I do not mourn the child I do not have, I celebrate the Adam I do have, to whom I responsible, and to whom I owe a great amount of fortitude and joy. His life is full of possibilities, and he will never disappoint me."
I think it's a very respectable approach. Joy today, joy with Adam yes… "Joy of Autism", as the blog's title says …well, I'm not sure. If there was a choice to live life without autism, I'm sure that's what Adam's parents would prefer. But they don't have that choice, and are making the best of the situation they are in.
The next video is rather disturbing difficult to watch, but if you watch it all the way, you gain insight to the very coherent and logical arguments of an autistic adult making the point that she sings, talks, listens, feels … in fact she is communicating – in her own language.
"It is only when I type something in your language that you refer to me as having communication"
She is right – but communication is a two-way street, and the brutal reality is that the world, the rest of us won't learn her language.. so she is missing something.
I'm struggling to put this into words, as I don't want to hurt anyone's feelings, but the point I'm trying to make is this: while it's everyone's right to select their approach to autism, and for many acceptance is the right one, denial does not help – after all, if you could eradicate autism overnight, you'd probably do it, so let other people pursue this option… they are not doing it to hurt you. Here's a comment from Robert's blog:
You're not "spreading the word" on autism (as Sridhar claims), you're spreading hate and bigotry. I don't appreciate it. My amazing child does not appreciate it.
Re-reading and re-reading again, I don't find bigotry, hatred – I find respect and admiration for the parents who deal with a difficult situation. Robert has not done months of research, but that does not mean he should not be allowed to even touch the subject, like some commenters suggest. The fact that he talks about autism, and accepts the common definition of it being a developmental disorder does not hurt children suffering from it, does not place a stigma on anyone who wants to be "just normal". (Update: Please read comment #91 from Baxter's Mom)
The fact that some parents pursue more aggressive course of treatment then others, or in fact that they pursue any treatment at all does not label other autistic kids as "abnormal". As a matter of fact I suspect the choice between acceptance, "autism is the way I am" vs. trying to cure it strongly correlates to the severity of the symptoms. The commenter who was only diagnosed at age 33 likely didn't have very serious symptoms, unlike several other children whose parents report outbreaks (like banging one's head in the wall) that can inflict self-injury. Clearly, these are extreme cases, but they make the point that in many cases pursuing treatment may just be the right option. And again, this does not label anyone else sick. Each family should evaluate their own situation, and whatever decision they make will be the right one for them.
Finally, I'd like to finish this discussion on a positive note, by pointing to an earlier post of mine: Autistic Kid Becomes Basketball Star.