MSNBC used to be my favorite news channel – when it was a news channel. I really don't know what it is today. Here's how they welcome the new year: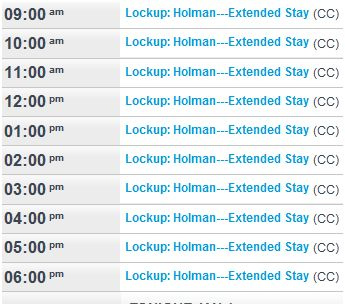 Yes, you can spend the entire day watching documentaries on life inside a prison. This isn't just a random programming mistake: throughout the year, any time I tuned to MSNBC ( and I rarely watch TV), it was likely "Lockup", the prison documentary, or "To Catch a Predator", the series about a hidden-camera investigation of sexual predators who troll Internet chat rooms for children. It's a serious matter worth our attention, but every **** day? C'mon, since when has MSNBC become Crime Channel?
But here's the worst part: I'm sure MSNBC are watching their ratings … which can only mean one thing: these shows are popular. What's America's infatuation with crime?
Update: Clearly I am not the only one finding MSNBC's programming (or lack of) weird:
CNN and FOX Noise are delivering a ton of politics today even though it's a holiday because the Iowa caucus is in overdrive mode. I flipped on to see who MSNBC had working the network today and guess what I saw? Repeats of Lockup, Lockup, Lockup, Lockup…Holman—Alabama…

That's ground breaking political coverage for you…