I often praised Twitter for being first reporting breaking news – typical examples were several recent earthquakes in Japan, China, New Zealand…etc.
This morning's news brought panic, as hundreds of Tweets reported:
Steve Jobs was rushed to ER after severe heart attack.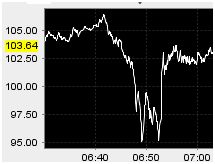 AAPL took a nosedive, then recovered.
Fortunately the news turned out to be bogus. Citizen journalism failed today.
Read the full chronology over @ CloudAve.
(Oh, and while at it, you may want to grab the CloudAve feed. Thank you.)