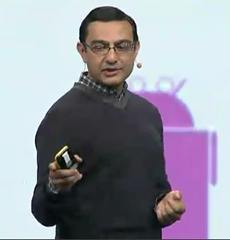 Wow, for not being a gadget-blog, we're spending quite a bit of attention on Smartphones @ CloudAve. Are we turning into gadget-freaks? 🙂
Like Ben, I've also received an Android-powered Sprint HTC EVO at the Google I/O Conference, and unlike him, I will be able to use it on Sprint, if I so chose.  As a New Zealander, Ben is out of luck – the Sprint CDMA phone does not work there, so I understand his rant, but let's make it clear: Google did not ignore international attendees.  All paid participants (we we, bloggers, were not)  had received a phone weeks prior to the conference: US attendees a Motorola Droid, International ones an unlocked Nexus One.
Which is why I was shocked to hear Vic Gundotra's announcement on the second day that all attendees would receive the next HTC wonderphone (hey, was that Vic's Steve Jobs-like "One More Thing" moment?).   Since this somewhat invalidates the previous phone giveaway, I can't help but think that it was a last-minute addition to Google's original game plan – and that leaves me wondering about the reasons.
I can only speculate, but perhaps Google and Sprint wanted to have a few thousand "testers" for the phone before it's official launch on June 4th?  In fact not just any users, but developers – but that would make even more sense if they had early access to Froyo (Android 2.2) which is announced, but not yet available.  Both new HTC phones – Incredible on Verizon and EVO on Sprint  came with the HTC Sense flavor of Android, but the EVO will allow turning this off, switching back to vanilla Android.  I will turn it off today and keep an eye for a magic OTA upgrade to Froyo:-)
(Again, this is pure speculation, I have no official or leaked info on the matter whatsoever)
Now, a bit of follow-up on my previous rant regarding coverage.  Phone companies must have decided I live in a corner of the world  – home to PeopleSoft, Commerce One,  Oracle, Workday, Safeway, Kaiser Permanente – that does not deserve good coverage (OK, the surrounding mountains may have to do with that, too) . Getting sick of reading all the coverage map and the surrounding spin, I actually fell victim to the most dishonest map from the carrier with the best coverage, Verizon.  Unlike the others, they don't indicate signal quality at all.   So now I am the proud (?) owner of both the HTC Incredible (purchased myself) and the HTC EVO (Google gift) and get to compare Sprint vs Verizon in my area – one weaker than the other:-(
And with all that said, my favorite phone is one I can not get my hands on: the Samsung Galaxy S. No writeup or video can do it justice.  You have to hold it in your hands.  I did.  It was hard to let go.
(Cross-posted @ CloudAve)