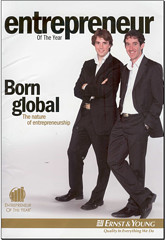 My first thought was deja vu… I myself reported on Mike and Scott winning the E&Y Young Entrepreneur of the Year Award a few months ago. Then it hit me; this is not the *young* category; Mike Cannon-Brookes and Scott Farquhar won the real thing, Ernst & Young's Australian Entrepreneur of the Year Award.
Now, if you first win the *young* category, then a few months later the *adult* one (not *that* way… ) does it mean you grew up quickly and are no longer young?

Joke apart, congrat's to Mike and Scott, in fact the entire Atlassian team. They've built a remarkable company… when I first met them in the spring, they had about 50 employees, now it's 70+, serving 5,000 customers in 65 countries. Their first hit was Jira, an issue management system, the second product, Confluence became the market leading enterprise wiki. Of course there are a number of ways to measure leadership, one being a feature-by-feature comparison, but at the end of the day, customers vote with their dollars, and Atlassian outsells their competition lumped together (including pre-Google JotSpot, amongst others).
Here's a short video from the award ceremony.
Successful millionaires or not (Atlassian is self-funded), these guys remain humble and likeable; just read Mike's post here. Oh, as for the likeable part, they hosted the Enterprise Irregulars, a few analysts and their own competitors to dinner, and did NOT use the opportunity to pitch us

All that said, I have to warn anyone thinking of joining them … they are a dangerous bunch.