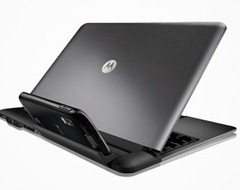 It took five years, but the personal computing nirvana vision I first heard from Zoho CEO Sridhar Vembu is becoming reality. The concept that I discussed in The Cell-Phone Aware PC May Be a PC-less PC, and other posts is simple.  Instead of a plethora of situational devices with redundant computing capacity, carry around just one powerful mobile device, which:
brings connectivity, the browser and personalization, with
data and apps in the cloud, while
the actual devices we interact with are inexpensive displays and keyboards (and other peripherals) that come in various shapes and sizes, truly focusing on usability, ergonomics and convenience.
The first product that gets quite close to the vision is the Motorola Atrix 4G…
(Cross-posted @ CloudAve » Zoli Erdos)