Perhaps it all started with Jeff Jarvis's Dell Hell.  Simple story: famous blogger gets poor service > blogs about it > company faces media backlash > company wakes up to social media, turns around > eventually Jarvis praises them as a Cluetrain business.
Then there's Comcast: everyone's love-to-hate cable company that now actively monitors Twitter for customer complaints in an effort to improve both their image and customer service.  These companies know something that many others still ignore:
Times have changed. Using blogs, Twitter, social networks one single unhappy customer can make a business look really bad.  Poor service is bad PR, which is very costly to undo. Good Customer Service is great  marketing.
Now here's my story of an online retailer that's about to learn these rules.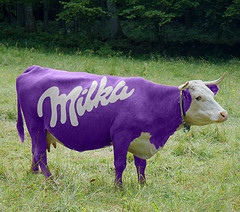 My Dad has diabetes, and he likes chocolate – not a good combo.

There's hardly any choice in sugar-free chocolate, what's available locally tastes like **** and is overpriced.   Eventually I found two (only !) online sources that sell Milka, his favorite brand.  I ended up ordering from Belgian Chocolate Online,  (www.chocolat.com,  www.chocolatesimports.com) owned buy CandyWorld, USA.   The site claims they ship the day after the order is placed, yet mine was only sent 9 days later, after I inquired.  The delay was actually reasonable, due to a heat-wave, but shouldn't they notify customers?
But the real surprise came a week later, when I received a large box  of almost-expired chocolate.  True, it had a few weeks left, but given the economics of shipping, I bought 40 bars, i.e. 4 kilos, or close to 9 lbs.  I don't know about you, but my Dad certainly does not eat that much in 4 weeks…
Two of my email complaints were left unanswered, so a week later, by the third email I was a bit antsy:
Dear Customer Service,
I don't get it. Is your solution to Customer Service issues to not respond at all?   I'd like to know if you intend to replace the old product with fresh one, or send  refund.  This is my last request, if you continue to ignore me, I will pursue this on my own.
Finally they answered (emphasis mine):
Dear Customer:

We are not ignoring any emails. We are helping customers placing their orders or who really need customer's service. We can't help you in an expiration date problem that you do not like and which isn't a problem.

The chocolates you bought are still not expired and we do not see why to replace or to refund. The expiration date is not the date for consumption, but a date to sell. We do NOT sell any chocolates with an expired date.
Ouch!  Who really need customer service… I've just spent $130 on old product and I don't qualify for attention.  Expiration date is not a problem… although this obviously sounded baloney, I wanted confirmation, so I contacted Kraft Foods, Milka's parent company, who responded within a day:
The product should be consumed by this date. We cannot assure freshness after that date because the taste and texture may have deteriorated.
(Side comment: talk about the power of brands … yes, Milka is a popular brand in Europe, and Milka is owned by Kraft, by can you imagine asking for Kraft Chocolate?

)
Anyway, I am confirmed to be right about the expiry date, and  Belgian Chocolate Online's attempt to explain the problem was a lie .  They were right in one point though: technically, they did not sell expired chocolate.  Not until one day before expiry … then good luck trying to eat it all quickly.  It is common practice by groceries to deep-discount perishable goods a few weeks/months before expiry, and one can even find Milka chocolate on eBay at a  fraction of the original price – but eBay sellers disclose the shortened shelf-life, for fear of eBay ruling against them in a dispute.   I guess there is no such policing on the Wild, Wild Web.
Except… now every consumer has the means to get "noisy" about their problems.  I am no Jeff Jarvis, but CandyWorld USA is no Dell, either: I wouldn't be surprised to see this post on the first page of several relevant Google searches (see update), and believe me, that will cost them a lot more than it would have cost to keep me happy.   Of course not everyone has a moderately well-read blog, but just about anyone can make noise on Twitter, and Get Satisfaction is another great resource to vent and get service.
In fact a combination of Twitter and Get Satisfaction was what brought me Comcast help a few months ago.  The attention I received from Comcast Executives from Philadelphia and here in California was quite amazing.  Comcast is becoming a hero for listening to customers on Twitter, and others follow. Southwest Airlines now even has a Chief Twitter Officer.
Are these examples PR acts or real customers service?  The individual complaints are resolved, for the customers involved, it's real service.  But Twitter or not, the "loud" unhappy customers are still just a fraction for now – which is why companies can afford to go out of their way to satisfy them.
I trust that simple market mechanisms will force companies -large and small- to improve service in the long run.  The economics are simple:
The PR damage (and potential loss of sales) caused by "noisy" individuals far exceeds the cost of helping them, so companies pull resources to put out these fires.
Yet firefighting is costly, may work with dozens, hundreds of customers, but not all.
Companies will reach a tipping point, where all the after-the-fact firefighting will become so costly, that it will actually be cheaper to train their support personnel and provide better service in the first place, thus the Twitter-heroism will decline.
We'll all be better off after #3.

Related articles by Zemanta
Update: Just as exptected: a few hours later this post is on the first page if you search for Belgian Chocolate Online,  and comes up first, before the vendor if you search for sugar-free Milka, which is how I found them in the first place.
Update (9/16):  Following the trail from my blog referrer log I've just discovered this post is now #1 on Google for the "milka chocolate marketing" search.  Oops… that can't be good – for Milka.