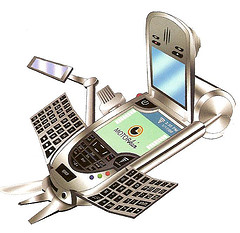 My next cellphone will be a Motorkia … don't rush to order yet…. it's dreamt up by a bunch of VC's interviewed by Techcomm, The National Journal of Technology Commercialization. Click the photo for details.
I wonder about the name though.. clearly the authors are thinking of Motorola+ Nokia … but have they realized Motorkia actually refers to Kia Motors? Is that the right image for this Swiss-Army-Knife-Phone? Even Motokia would have been better … although my favorite is Nokirola.

P.S. I wonder what Steve Shu thinks about this…
Update (2/16): OM shows a few cool phones in Revenge Of Windows Mobile but hey, they are not as hot as the Nokirola
Update (2/16): Sanyo and Nokia creating joint venture… hm… Sakia? Nonyo?

Tags: Cell Phone, Cellular, Nokia, Motorola, Kia, Motorkia, Motokia, Nokirola, Sanyo, Sakia, Nonyo