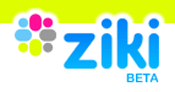 Some commenters on TechCrunch are asking the usual question: what's the business model? I think it's obvious: Ziki has commission-based deals with sunglass-manufacturers.
If you visit the site, you'll see it yourself – but not for long, your eyes will burn (sans shades).
On a more serious note: I will soon write about a truly innovative business model (by another company).
Update (4/24). Nobody else seems to have discovered the "secret deal" – they talk about Zikis social networking, tagging ..etc features.

Update (4/27): Ziki listens: they toned down the colors – there goes the sunglasses-deal

Tags: ziki, techcrunch, design, web-design, humor