Don't worry, dear reader, TechCrunch is still doing OK – their Feedburner subscription base grew almost 100% overnight. But it pales in comparison to my 2.5million % growth rate … yes, I went from 200 or so to 51k. Jeff Clavier did quite well, too, at 56k, but hey Jeff, I am catching up!
OK, now that I had my coffee and am awake (?), let's look at what really happened.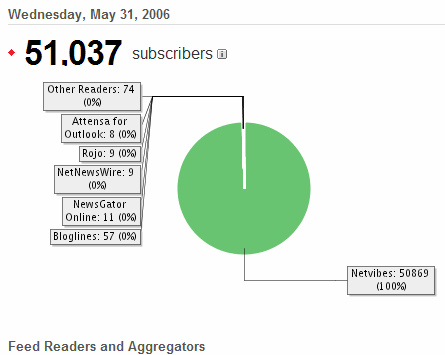 The culprit is clearly Netvibes – or to be precise, I don't know if the error is on the Netvibes or Feedburner side, but clearly the Netvibes numbers are solely responsible for the inflated stats. The "fluff factor" is not a multiplier, they simply appear to have added a base of 50K or so to all statistics.
Hm… perhaps it's not a glitch, it's a "feature", since NetVibes just installed an upgrade.
Hey Netvibes (or Feedburner?), I hope I get a "finder's fee" for pointing this out: when you fix this, could you please leave my base at… say at a tiny 10K bonus level… I promise I won't tell.
Related posts:
Tags: blogs, blogging, feedburner, netvibes, techcrunch, zoliblog