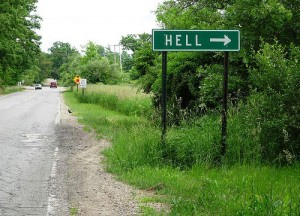 No, I am not rude. I am talking about visiting the festivities in the town of Hell, Michigan, next Tuesday, which is 6/6/06, or … 666, the "Number of the Beast".
Yes, the town really exists, although Google refuses to find it, desperately trying to come up with a match in California. Now, I'm not a big fan of German food, but it's amazing that the places Google associates with Hell are Elbe German European Cuisine, Harry's Hofbrau, Hardy's Bavaria, Teskes Germania Restaurant…etc. Although if you regularly dine at the Google Cafeteria, I can understand every ting else is Hell… well, except perhaps the French Laundry.
(Back to Google, I wonder how Congresswoman Zoe Lofgren got on the Hell List
). Anyway, where Google fails, Yahoo delivers.
Tuesday will be a big day in the life of Hell, the mayor who runs the town and a gift-shop ordered a lot of commemorative items, all in quantities of 666, so run while supplies last! The town's website (dying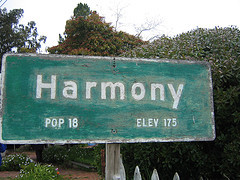 from unexpected traffic) has a telling domain name of hell2u.com
If you're not quite ready to go to Hell … well, there is always Harmony, CA, with a population of 18.
(What an explosion, I have an old photo from the early 90's when it was 8).
Update (666): Dial "Hell", reach Stowe Boyd.
Update (12/17/08):   Look where the Hell sign showed up 🙂 Do they know?  🙂