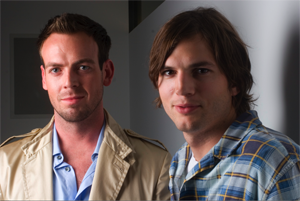 I was an Ooma White Rabbit – for a grand total of 10 minutes. There's a lot of buzz today about the new VOIP service which offers free local and long distance calls. Free, after the purchase of the $399 box, which takes care of routing your calls and a lot more.
The company seems to have pulled off a PC Coup, listing Ashton Kutcher (yes, *that* one) as their Creative Director. They are in pre-release test mode, and intend to seed their network by giving away 1,500-2,000 units throughout the country. I signed up via Om Malik's free offer, and within minutes was confirmed as a White Rabbit, i.e. "one of the chosen few who will help us change the game of phone service forever."
I started to develop suspicions during the online registration: there were several questions only a true POTS user could answer, and I haven't used a local phone company for years. I'm on Vonage, but Ooma is being heralded as the Vonage killer (not that they need one), so I should be OK, I guess (?). Nope. After completing registration, I called customer service, and was confirmed that at this stage they need a good old traditional phone-line. Now, if you read the comments on all the blogs welcoming the new service, it becomes obvious that this new service needs early adopters, the experimental types, who are likely already VOIP customers.
Ooma says around September when they roll out the service they will no longer have the local phone company requirement. I guess that puts an end to my White Rabbit status – although if Ooma still sends me the box, I will give it a try…
Update: Perception Matters.
Related posts: TechCrunch, dslreports.com, CrunchGear, VentureBeat, MobileCrunch, IP Telephony, VoIP, Broadband , Podcasting News, VoIP & Gadgets Blog, Engadget, IP Democracy, Alec Saunders .LOG, Mark Evans, robhyndman.com and VoIP Watch
Tags: VOIP, Ooma, Vonage, POTS, telephone service, Ashton Kutcher