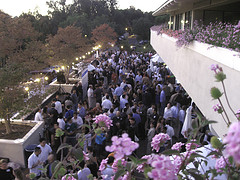 The wait is over: what was first dubbed as the Second Annual TechCrunch Meet-up at August Capital is now officially TechCrunch 9. If you attended TechCrunch 7 at August Capital last year, and are wondering what you may have missed… relax: # 8 was the New York Party – proof that there is entrepreneurial life outside Silicon Valley. (is there?

)
When Mike Arrington published the participant list, I dropped it in a spreadsheet to get a quick count: it was 809! Considering that last year with 500 on the list we were 700 , I figured 1000 would be a safe bet.. and started to wonder if August Capital's huge terrace is strong enough to hold 1000 people. Security was stronger than last year, so perhaps that explains why the final turnout was around 900. Here's a snapshot of the TechCrunch 900, courtesy of Jeremiah Owyang.
I've made a strategic mistake: got "stuck" with some long-not-seen friends in a corner, and before I realized it, the party was already winding down. As I browse through the photos by Mike Arrington, Scott Beale, Jeremiah, Thomas Hawk, Dan Farber, Brian Solis and others, I'm surprised to see many familiar faces of friends I haven't bumped into at the party.
I actually wonder if the best-informed "attendees" were those who were not even present. UStream.tv as well as competitor Kyte.tv broadcasted the event to the World, along with a chat room, so the total number was definitely in the thousands. Centernetwork's Allen Stern liveblogged the party – from 2958 miles away, based on the Ustream.tv feed and chat room.
What a difference a year makes! Sarah Myers got thrown out last year as party-crasher; this year she was officially invited (hey I like the new hair-style

) what's more, if anyone is interested in not just the party details, but the (mostly) startups demo-ing their ware, there's hardly a better summary than Sarah's video:
Wow, that's 16 companies in 2 minutes. Congrat's to Sarah and the interviewees, almost all were concise, delivered the message. If I may give some advice, when you have 10 seconds, don't waste it on phrases like "revolutionary product". It may very well be, but it does not tell me what you do…
But I don't want to be the judge – much rather have you, dear reader pick the best and worst pitch. Please do it in the poll below – you'll need to scroll down to get the full list, and if you read this in your feed, you may have to click through.
Update (7/30): Please vote based on the video pitch above, not what you've seen at the party, if you were there.
Last, but not least, this was the first TechCrunch party where tickets were "sold" for a nominal fee of $10 – the proceeds were matched by TechCrunch and a total of $10,000 was donated to Kipp Bayview Academy

towards the purchase of new computer equipment.
See you at TechCrunch 10

Update (7/30): I've just noticed a trend:
Tags: TechCrunch, TechCrunch Party, blogging, startups, entrepreneurship, Web 2.0, August Capital, techcrunch9, techcrunchaugust2007, zoho polls