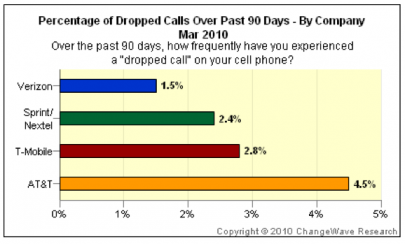 Will iPhone users move to Verizon? – goes the speculation, based on a study published @ Fortune showing AT&T drop calls 3 times as frequently as Verizon.
From my vantage point even dropped calls would be a luxury – meaning you can get a strong enough signal to place calls in the first place.  Apparently I live at the end of the World.  Sometimes I tell friends if Friedman is right and the World is really flat, this is where you fall off the edge. 🙂
But it's not really the "end of the world" – Pleasanton is (was) was hometown to software giants like  PeopleSoft, Commerce One,  Oracle, Workday, or to name a few more traditional businesses, grocery chain giant Safeway, or mega-HMO Kaiser Permanente.  Yet this is what AT&T's coverage map looks like: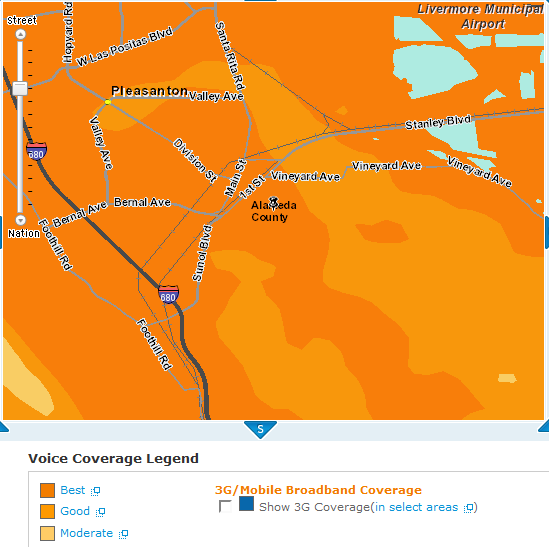 Ad no, we're not even talking about 3G data, this is for voice calls.  Now, being in the "good" (on the boundary of moderate) zone may not look so bad, until we look at how At&T defines good voice coverage:
Should be sufficient for on-street or in-the-open coverage, most in-vehicle coverage and possibly some in-building coverage. This AT&T owned network provides GSM, GPRS, and EDGE service
Possibly some in-building coverage?  Calling that good?  How pathetic.  But let's look at other carriers' definition of "Good".  T-Mobile:
You will likely be able to place calls outdoors, in a car, and occasionally indoors.
Occasionally?  What are they smoking calling this "good" coverage?  Hm, let's check Sprint, home to the uber-super HTC EVO 4GS and the superfast Overdrive 4G hotspot:
You should generally receive a signal strength sufficient to make calls outdoors, in a car and in some buildings.
How Pathetic.  All these companies must speak a different version of English, where "good" means "no can do" in most buildings.  Insanity.
That only leaves Verizon, which has solid red (best coverage) in my entire area.  Which makes my choice easy: all those comparative reviews of the iPhone 3G and 4G, HTC Incredible, Nexus One, HTC EVO 4G are so irrelevant, if I can't get a signal.  HTC Incredible (Android) and Verizon, here I come.  By default.
(Cross-posted @ CloudAve)