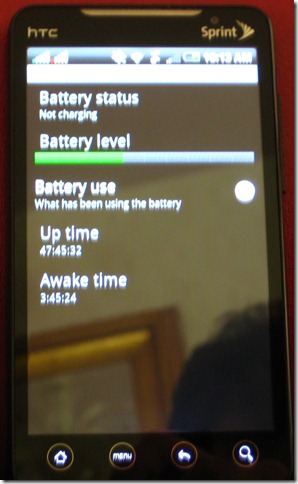 The HTC EVO is the hottest Android phone for now, but it is plagued by the much debated battery issue.  Clearly, it's a monster of a workhorse, and battery life will depend on one's usage patterns: you can't expect a whole lot if you get background updates from social networks every 5  minutes and watch HD video for hours.
But the real divisive issue is battery life on stand-by: some claim their EVO's die in Sleep mode in a matter of 5-6 hours, while others swear battery life is not worse than that of the iPhone.  TechCrunch goes as far as warning people: Don't Buy The HTC EVO, It Is A Seriously Flawed Device.
Wow, that's a heavy statement – and I have to disagree, because I had experienced all the trouble myself, than started to research, experiment and went from 5 hours to 2 days standby time.
But I don't want to argue – I don't have to.  I have proof.  Just look at the image on the right: after almost 2 days my EVO still has 40% battery left.
I'd say that's as good as you can get, from a powerful little computer that happens to allow phone calls, too. 🙂
(Cross-posted @ CloudAve)