When Shai Agassi, President of the Product- Technology Group in SAP left the software giant this March, his parting line "to pursue interests in alternative energy and climate change" could very well be viewed as a fashionable update to the old cliche of "leaving to pursue other interests and to spend more time with family".
But in hindsight it's obvious Shai knew exactly what he wanted to do next, as laid out in his blog post on Alternative Transportation within days after his departure:
…electric vehicles will become a reality within a short time frame, and will be cheaper to operate within a short time…

The consumer needs to feel comfortable driving an electric car with a ubiquitous charging infrastructure…

The grid needs to support the new load from this moving electrical appliance…
He then goes on defining his future role:
If you followed the history of the introduction of electricity through the first appliance – the electric light bulb – you know that there were three main players in the story: Edison, Tesla and Westinghouse…

…Tesla invented most of the essentials for the common grid we know and love today. The guy who deployed it in mass scale though was Westinghouse, which is the role we need in this new electric revolution – the business guy who deploys with the highest efficiency and best business approach. If Tesla Motors are the modern day Tesla, my hope is to play the role of Westinghouse, or some small part of that role.
Half a year later Shai re-emerged, launching Project Better Place, a company funded to the tune of $200M, which intends to deploy the infrastructure needed to support electric vehicles.
Project Better Place wants to create the grid of recharge and battery exchange stations, and here comes the interesting part: they want to follow the mobile phone industry's business model, offering subscribers to the grid subsidized cars that are "cheaper to buy and operate than today's fuel-based cars".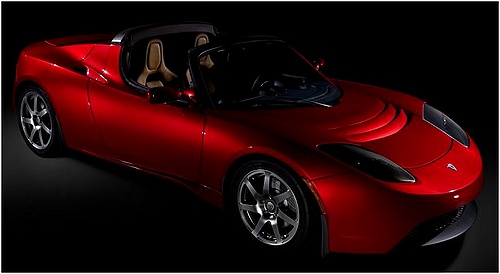 I'm sooo ready for a subsidized Tesla

Update: Now that there's a conversation going on about HaaS (Hardware as a Service), I'm going to declare the Shai-mobile CaaS: Car as a Service.

Update: Watch Shai on CNBC, first live in the studio, then I believe remotely. Wonder why he put on a tie for the second round…perhaps Thomas knows(?)
Gotta love this quote:
This is not a science project. This in an integration project.
Related posts: WSJ ($), Green Car Congress, New York Times, Green Wombat, Crunchgear (calling Shai "some guy"), isRealli, Earth2Tech, Business Week, alarm:clock, Between the Lines, Techdirt, Babbling VC, VentureBeat, All Tesla Motors Blogs , The Energy Blog,