While outgoing Microsoft CEO Steve Ballmer is being egged in Budapest Fake Steve Jobs is already running a poll to find his replacement. Ex-Microsoftie, current Uber-Blogger Robert Scoble seems to have a solid lead: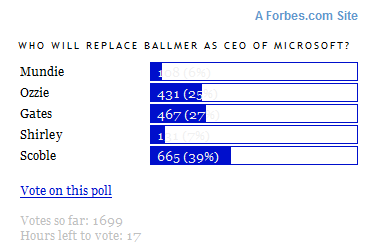 Congrat's, MicroScoble!

Update: Robert did not hesitate to declare his first move as CEO: Why Microsoft will buy Facebook and keep it closed.