Chances are you got scared away from visiting a webpage this morning by Google's malware warning:
Warning – visiting this web site may harm your computer!

Suggestions:

Or you can continue to http://www.google.com/ at your own risk. For detailed information about the problems we found, visit Google's Safe Browsing diagnostic page for this site.
For more information about how to protect yourself from harmful software online, you can visit StopBadware.org.
If you are the owner of this web site, you can request a review of your site using Google's Webmaster Tools. More information about the review process is available in Google's Webmaster Help Center.
Don't worry, there's nothing wrong with the site you are looking for.  Google give false warnings on ANY site today, including their own.  Here's the Google search result for the keyword Google: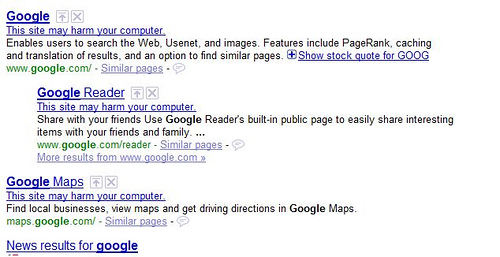 If you try to click on the diagnostic page, you get a Server Error.  So go ahead, ignore the warnings – or perhaps limit your browsing to "known territories" until the error gets fixed.
(Cross-posted from CloudAve. To stay on top of Cloud Computing news, analysis and just our opinion, grab the CloudAve Feed here.)