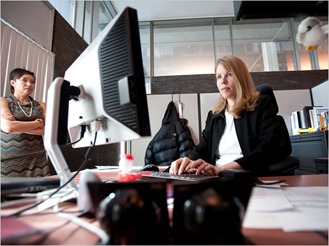 Out of the loop is the original title of a New York Times article discussing how difficult it is for women entrepreneurs to get funded, or generally to get into the management ranks in business.  A title that backfires … but you'll have to wait to see why.
The first case discussed @ the NYT is Crimson Hexagon, a start-up founded by Candace Fleming, Harvard MBA, former HP Exec and small business President. Yet despite here credentials potential investors called her "Mom", asked indiscreet questions and one invited her to his yacht by showing her his photo on the yacht – sans clothes.
"I didn't know things like this still happened," says Ms. Fleming, 37. "But I know that, especially in risky times like the last couple years, some investors kind of retreat to investing via a template." A company owned by a woman, she adds, "is just not the standard template."
Her solution was to find a fund that specifically focuses on investing in start-ups led by women: Golden Seeds.  They and other angels funded Crimson Hexagon to the  tune of $1.8M.
So while the bigger issue is still very much of a problem, at least all is well at Crimson Hexagon.  That is, until you click the link, where you see this headline:
4.5.2010 Crimson Hexagon Fills Out $2M Series A-2 Round; Names Scott Centurino New CEO
A bit more detail (emphasis mine):
Crimson Hexagon, the leading provider of real time market research, today announced that it has filled a $2M Series A-2 funding round. The round, led by Golden Seeds, was completed through a combination of new and existing investors…

In addition, the company announced that Scott Centurino has joined the company as the new CEO, replacing Candace Fleming who left for both personal and professional reasons.
Oops…  not exactly the outcome the NYT projected.  So now you see why the title backfired: just who is out of the loop this time?
(Cross-posted @ CloudAve)