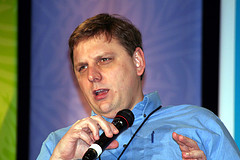 Image by jdlasica via Flickr
Disturbing news this morning: TechCrunch Founder Mike Arrington was about to leave the DLD Conference (hey, Eran, where's your review?) when a stranger approached him, deliberately spat in his face and disappeared in the crowd.
This is as lowly as it gets. It's also very cowardly.  TechCrunch covers a lot of companies and people, some positively, some negatively, others not at all, which can hurt… and Mike does get occasionally abrasive, but does not go into personal attacks.
Anyone who has issues with Mike him can bring it up publicly, in a civilized manner. With zero barrier of entry to blogging, Twitter..etc there is no excuse not to do so.
Mike Arrington is now taking some time off, not only because of the spit-attack, but also to reflect on earlier threats on his and his family's life and security.
What happened today is a despicable act, not to be taken lightly.  I am not making fun of it either … but perhaps to cheer Mike up, I must point out that he is now in a Very Elite Club, where his fellow members are none other but Bill Gates and Steve Ballmer. 
We probably all remember how Microsoft CEO Steve Ballmer received the egg treatment in Budapest last year:
But I suspect some of my readers are too young to recall that ten years before the Ballmer-incident, Microsoft Founder Bill Gates received a full cream-pie in his face on a visit to Belgium:
(Cross-posted from CloudAve. To stay on top of Cloud Computing news, analysis and just our opinion, grab the CloudAve Feed here.)
Related posts: