Google StreetView has just arrived to Dallas, Detroit, Indianapolis, Fort Worth, Boston, Minneapolis, St. Paul, and Providence – reports The Boston Globe and Google Operating System, adding that "the total number of cities that have the street view imagery is now 23".
Actually, it's a lot more, if we add small towns. I can count more in this area alone. While we keep track of major metropolitan cities (and that is indeed 23), the Google Fleet has for quite some time been driving around Small Town America, taking pictures of residential areas. Who knows, your home might be covered – better check it out now

. I've accidentally discovered my own former home in West Chester, PA: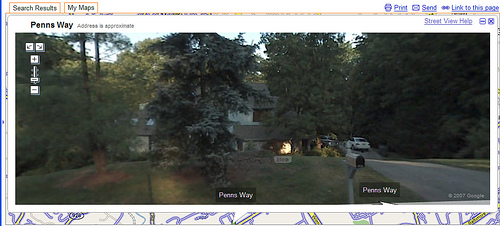 The postal address is West Chester, but in fact it's in nowhere-land between West Chester and Chadds Ford. The area is as rural as it gets, the average lot is 2-3 wooded acres, you can see dear in your backyard, and there's generally nothing but residences and country clubs. Which brings me to my point:
In a typical city, street photos do carry information: shops, cafes, portals, public buildings ..etc. Google needs to balance the usefulness of information against privacy concerns, and as a result, it started masking the faces of people who accidentally just happen to be photographed. But what's the point of shooting rural neighborhoods I've just shown above? They are often secluded developments, not even part of any township at all, where there is no public / tourist traffic – you take a county road in the woods, and only drive there if you live there or visit someone. What's the "use case" here? I'm actually not so concerned about privacy, simply wondering about priorities. There are only so many StreetView Chevys, and far to many major cities uncovered.
Additional posts: Google Blogoscoped, Mashable!