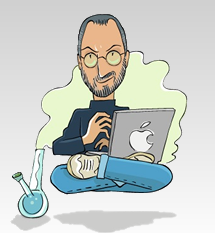 It's tough to be Fake Steve Jobs nowadays.
Continuing in his role as FSJ, he has to defend all-things-Apple, especially from ruthless attackers like Google. (As a sidenote, did Vic Gundotra just have a Steve Jobs moment yesterday?)
On the other hand Fake Steve is also the Real Daniel Lyons.  One who actually uses smartphones, wants to pick what he really likes and is sick of his alter ego's "censoring content, ruling out material that he deems to be offensive".  To the point that he ditched the iPhone and switched to Android.
Now, which Steve / Daniel should we believe?  🙂
(Cross-posted @ CloudAve)