It only took 40 minutes for the 5th TechCrunch Party to "sell out" after Mike announced it on his blog. 200+ people registered on the wiki, and those left out left out are asking for unused slots or even offering Mike $$$ to get in … Wow, talk about popularity! (see my notes on a previous party).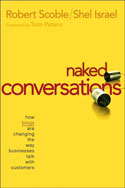 On a hunch I checked eBay – nothing yet
Departing from the original formula, the 4th one became a launch party for Riya – this time it's a celebration of the launch of Naked Conversations, the new book by Shel Israel and Robert Scoble.
Having just seen Chris Pirillo's Naked Review, and knowing there will be a heated tent in the backyard makes me wonder .. hm.. will there be a format change? Just how naked will this party be?
Tags: TechCrunch, Naked Conversations, blogs, blogging, book, Scoble, Naked, Humor