Omnidrive and Zoho took us a step closer to seamless on-and-offline computing by announcing their partnership over the weekend. The typical approach to editing online files is to download > edit > upload again. Better online storage services streamline these steps by auto-synchronizing your files, but editing is still a local operation.
Not anymore on (Z)Omnidrive: double-clicking on any Microsoft Office document will open it in the corresponding Zoho application, in the example below Zoho Writer. Currently Word, HTML, txt and ODT formats are supported using Writer, but later this week spreadsheets and Powerpoint files will also be available, through Zoho Sheet and Zoho Show. (Remember, although I am talking about applications here, all you need is the browser.) Thanks to Omnidrive's sync-power the changes you've just made online will be reflected in the offline version of your document, too.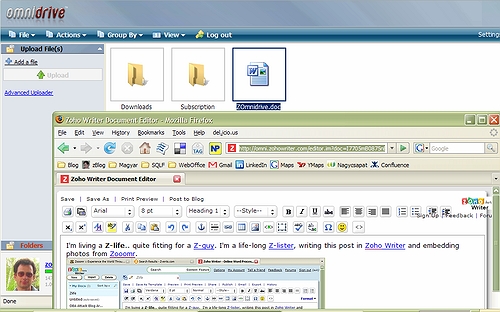 Creating new documents within Omnidrive is as easy as clicking File > New > Document type: Zoho Writer pops up, saves your document to Omnidrive, and voila! The Word file is on your computer.
I suspect this is just a beginning, and we'll be seeing similar integrated offerings soon. For example I've long been saying that the attachment management functions the better enterprise wikis offer are nice, but they solve the problem based on yesterday's technology. Instead of the upload>download>re-upload nightmare wouldn't it be easier to work with the attachments directly online?
Koral, the innovative content collaboration service could also benefit from the Zoho API: it handles desktop Office apps like a charm, synchronizing, indexing, tagging …etc. them, but currently only has flash-previews for presentation files. A lot of extra steps could be saved by displaying / editing the documents online.
What other "candidates" can you think of?
Related posts:
TechCrunch, Omnidrive, Zoho, New Web Order, GizBuzz, Solo Technology, Webware,
Tags: omnidrive, zoho, open api, mashup, integration, online storage, synchronization, office 2.0, weboffice, zoho Writer, zoho sheet, zoho show, MS Word, MS Office, zomnidrive