Any time Google makes an announcement, naysayers rush to say it's the end of the smaller Office 2.0 players. I disagree: it's not going to be a winner-takes-all market. There will be room for better, differentiated products, better customer service, possible white-label partnerships… Ahh, and talk about partnership: you can't partner with Google – you can become a customer on their terms.
That said, not all startups survive: we've seen Kiko fold, and the iRows team joined Google when they ran out of cash. So it definitely does not hurt to have some longevity if you're in this "game" for the long run.
Today a service I've been beta-testing and like a lot came out of beta: that means it's fully available, and God Forbid

also charges a fee.

Site24x7 does what the name suggests: monitors your site's availability, response times, and it also allows monitoring individual web transactions. You can predefine whether you'd like email or SMS alerts in case of outages. Below is a sample weekly (daily, if you prefer) report.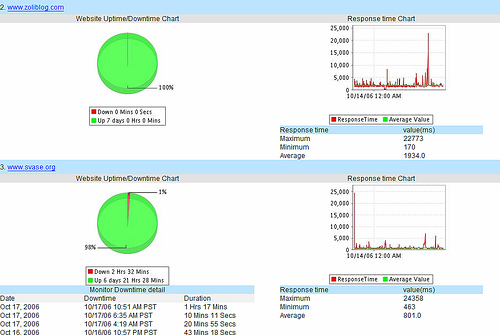 Actually, I lied above: the service does have a basic free level. But if you'd like monitoring frequency to be less than 60 minutes, you'll find the Pro account is well worth it: fees start at 50 cents. Since this is not a user-based service, that means $.50, $1, $2 per site per month. I think it's a no-brainer.
Why am I talking about it? Site24x7 is provided by a company named Adventnet. Their website is boring. But their product list is over a hundred items long. "Boring", reliable, solid cash-cows.

Adventnet is not a startup by any means: they have been in business for ten years, organically growing to 600+ employees and millions of dollars in revenue (without outside investment).
They are the company behind Zoho. Now you know where Zoho's longevity comes from. Those pennies add up.
(Disclaimer: I'm an Advisor to Zoho)
Tags: office 2.0, google, zoho, adventnet, site24x7, startups, longevity, saas, web 2.0