Atlassian, makers of Confluence, the market-leading Enterprise Wiki has a new homepage. So what? – you may ask. Well, as they say, a picture is worth a thousand words, and this case is no exception. Two pointers (not that you need any):
Atlassian is a four-product company, and the old site reflected that.
Their original hit was Jira, later Confluence, as a downloadable product. They were somewhat late with a hosted version – but they delivered what the market wanted, and their numbers speak for themselves.
Times change. One would have to be blind not to see they are getting a new religion: (old page to the right, new one below)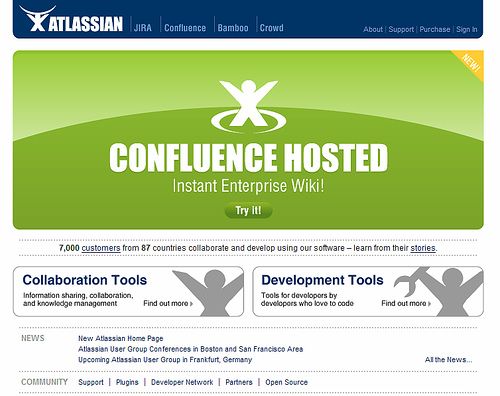 Update: One would either have to be blind, or just look at the site at another time… as it turns out (see Mike's comment below), the big banner is a rotating one… so much for going to SaaS Church together

Oh, well, if you want to find out more about Atlassian, you can attend their user conference in Boston on Palo Alto.