Download Squad summarily writes off Microsoft Works:
It's always been sort of an ironic name for a product, because it just barely works.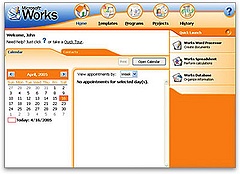 I strongly disagree – at least with the "always" part. In the late 80's Works was my main productivity suite: I was happily crunching numbers, generating charts, including them as well as data from my database in word-processing documents. In other words, I had a perfectly working and lightweight integrated office suite at the time when Word, Excel and Powerpoint were part of a suite only in name, but moving data between them was a major pain. It had to be lightweight: my laptop had 640K memory (that's K, not MB!) and two 720k floppy drives – no hard-disk at all. Yet it was happily churning away with Works.
Once again, Microsoft had a perfectly working integrated suite 20 years ago, they just decided to downplay it favoring the higher margin, high-end but fragmented products, which took years to become a true Office Suite. As a result, by today Download Squad may be right:
Sure, if all you need is a basic spreadsheet, calendar, or word processor, MS Works will do. But since it can't handle most MS Office documents, Works is barely worth the $50 you'd have to pay if you actually went out and bought a copy.
I doubt a lot of users shelled out $50, since Works has long been the default product OEM's installed on (low-end) PC's – but soon it may be entirely free, reports ZDNet:
"If ad revenues exceed 67 cents per year, we could actually give Works away and still make more money," two Microsoft researchers and one person from MSN stated in a paper presented to Chairman Bill Gates at a Thinkweek brainstorming session earlier this year."
"This year" in the above quote refers to 2005. It only took Microsoft to make up their minds two years

Of course the question that everyone asks is whether Works will be enough to fend off Google, Zoho, ThinkFree, the online office suites invading Microsoft's turf.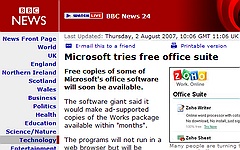 I don't think they are comparable: Works is still just a client-based, personal productivity tool. If you're looking to get off the desktop, use web-based, anywhere-accessible, sharable, collaborative products – Works just does not cut it. Update: apparently BBC News thinks so, too.
But the ad-supported Works can't be entirely client-based: MS will have to pipe in those ads somehow. And once you're connected, they can start serving up more than just ads – could this become a "Software plus Service" offering one day?
Although Software plus Service is a new buzzword, Microsoft has been doing it with years – more about that in the next post.
More on the subject: TechCrunch, Andy Beal's Marketing Pilgrim, Compiler, PC World: Techlog, One Microsoft Way , IP Telephony, VoIP, Broadband, Profy, Lifehack, Phil Wainewright, All about Microsoft, Read/WriteWeb,
Tags: Microsoft, Microsoft Office, Microsoft Works, MS Works, Office Suite, Google Docs & spreadsheets, Zoho, Thinkfree, Web Office