(I could not stuff that title with more digg & dugg…). Anyway, Clickalite did some digging into how often the Technorati 100 gets dugg up to the Digg homepage. 92 of the Technorati 100 are English-language blogs, and 76 of them made it to the homepage (you know, dugg up on Digg). The leader of the pack , Ars Technica made it a whopping 1350 times! TechCrunch only got dugg up 533 times, and Mike has said before he only gets about 10% of his traffic from Digg – no wonder, with over half a million subscribers.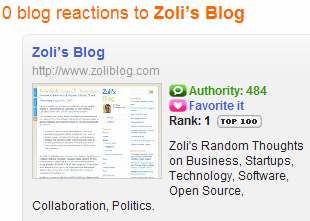 Well, I'm just a little rookie blogger compared to Mike, but even I've made it into the Top 100, and I did not need the "digg effect" – only made it to the home page about 3 times, if memory serves me well.
In fact, I am #1 on Technorati! But wait… is was Aaron, Brownbaron, Sizlopedia, Matt, Shaun, Eclectic Life, Grokdotcom,*  and a number other blogs I've never heard of before. Hm… quite a few to share my throne with

. Turns out this Saturday was "Everybody No 1 on Technorati Day". Good for Clickalite not having done his (manual) research on Saturday….
Btw, there was more trouble with T'rati that day. If you look at the pic here, I seem to have 0 (yes, zero) blog reactions to my blog. Now, I know my "authority" has been in a free-fall (lost about 30% so far) since moving to WordPress recently, but how did I make it to even 484 with 0 links?
Oh, well… still waiting for that White Knight.
Related posts: Andy Beal's Marketing Pilgrim and CenterNetworks
* Groktodcom on the messed up Technorati authority:
If rank meant everything,  every blogger who's had even one link documented by Technorati could rejoice more than they already are after being accidentally ranked #1 today — thanks to a glitch.   f rank meant everything, you wouldn't have to create fresh, original content.  If rank meant everything, blogs wouldn't be worth reading.   Everyone would be baiting links (like I am).  Like money, when rank means everything, it means nothing.  Do blog readers really care about rank?  😉
Tags: technorati authority, technorati, technorati 100, digg, digging, dugg, social networking, social bookmarking