"Beware installing Windows Live Writer Beta 3" – warns Tom Raftery. He finds Microsoft's default of swithching to Live Search and installing a bundle of software outrageous.
If only he knew that if gets a lot worse! Default are an annoyance, I kind of expect them – I consider all install programs booby-trapped, and actively look for what I have to "disarm". But this time Microsoft crossed the line, going back to the old practice of installing software without even asking, what's more without even telling the user anything about it.
If you look at my install choices, you can see I unchecked all selectable options: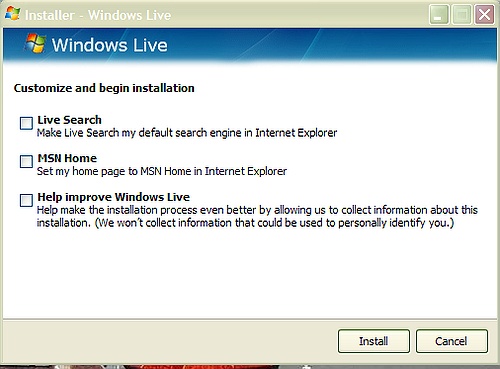 The above were all selected as deafult, which is what ticked Tom off.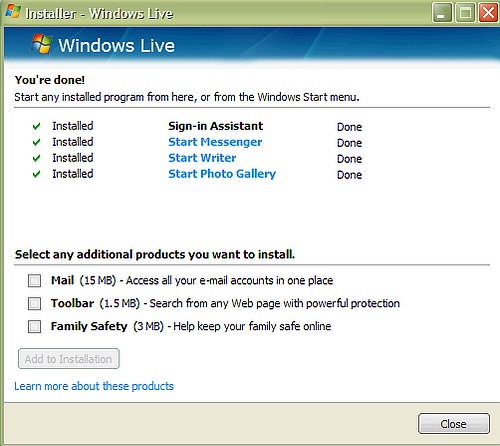 Again, unselected everything above, and I can clearly see the four programs to be installed (or so I think).
Now, let's look at my Windows taskbar after the installation:

The red arrow points to.. none other but Windows Desktop Search, a program I did not select, was never listed, yet Live Installed sneaked it onto my computer. I clearly have not had it before, and don't need it, since – as you can see – I already have Copernic Desktop Search installed.
Frankly, I was so shocked, I started to question myself… simply because in 2007 such agressive behavior is unthinkable, so I wondered if in fact there was a screen where I could have unselected it. To double-check, I went ahead and repeated the process on another PC – same results.
Apparently Microsoft doesn't learn – they are just as agressive and ignorant as they were in the 90's. The only difference is that now we have non-Microsoft alternatives.
Update: This could be a coincidence, but Firefox disappeared from my Quick Launch bar. IE7 is still there.
Update (10/18): Wow, Microsoft does listen, after all:
Windows Live Photo Gallery no longer requires WDS (Windows Desktop Search) to be installed on XP! Again, we heard the grumblings loud and clear, and took action! Once you have installed the update via Microsoft Update and have build 1299.1010 install you can uninstall WDS if you're not using it with any other programs.