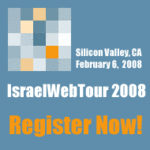 Israel is a hotbed of technology startups – in 2007 alone they raised $1.76 billion of Venture Funding2007, the highest amount in six years. The California Israel Chamber of Commerce is organizing an event, where 90 companies applied to take part in the Israel Web Tour, 4 days of intense meetings with investors, strategic partners, customers, entrepreneurs and industry leaders.
The 15 winning startups, whose Founders/CEO's will participate are: 5min.com, PLYmedia.com , AllofMe, NuConomy , ClickTale, blogTV.com , Sportingo, PicScout , Qoof, 8hands, Velingo , Innovid, Semingo, PageOnce, and Journeys – the event site has a short synopsis on all of them.
The highlight of the tour will be a public showcase on February 6th, 8:00AM – 2:00PM 2008 @ the Microsoft Campus in Mountain View. Tickets are available here. Ticket holders are also invited free to the closing night party in San Francisco at Slide on February 7th.
The Tour is sponsored by Google, Yahoo, Adobe, Sun Microsystems, Microsoft, Lehman Brothers, USVP, Wilson Sonsini Goodrich and Rosatti, Elron and Gemini Israel Funds and the Israeli Consulate in San Francisco.