The entire blogosphere is up in arms against Apple, for their attempt to sneak the Safari browser onto Windows machines, via Apple Update. Everybody is shocked, after all we're more used to such behavior from the (Micro)Borg, but Apple are supposed to be the good guys…
Except they aren't, and have never been. The sneakiness hasn't started today, it just went unnoticed for a good reason. What's wrong with the screen image below?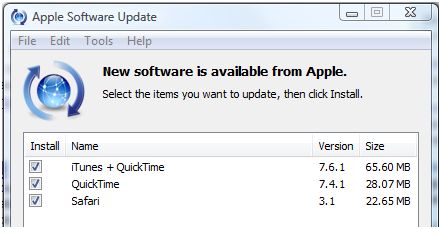 Safari selected as default? Nope. Nothing new there, that's what everybody's talking about today. What's really wrong is the selection of iTunes. Wait! – you may say, this is the iTunes update program in the first place … Wrong!
I happen to be one of those weirdos who don't have iTunes on my computer. This is a Vista PC (no, I am not happy with it, but that's another story) and I've never ever had iTunes installed. In fact I don't like to have Quicktime either, for its stickiness (close to impossible to kill if off the systray), but I need it as some videos are only available in this format.
But why is this thing pushing iTunes on my machine, without any config option to unselect it once and for all? It's just as much of an aggression as the Safari invasion today.
Now, it's the top of TechMeme – but where is FSJ?
Update (3/22): A commenter below warned:
Be careful not to touch the "Thin Skin of Apple Fans".:-).
Boy, was he right. Look at otherwise reasonably objective Dennis Howlett come to Apple's defense, who is turning it into a Mozilla issue, talks about "Badmouthing the competition". Dennis, you know Apple is out of line, if this was Microsoft, you and I both would condemn it, like we did in the past.
Related posts: VentureBeat, InfoWorld, Asa Dotzler , MacDailyNews, InformationWeek, ReadWriteWeb, Brandon Live,