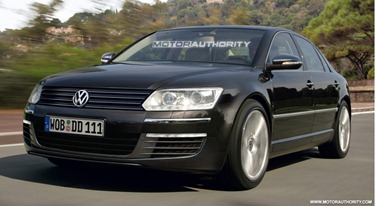 Half a decade ago I labeled the Volkswagen Phaeton a fiasco.  A great car coupled with a marketing disaster:
The car is perfect. In fact it's a technological marvel full of luxuries.  It only has one problem:  the wrong badge. Volkswagen happens to mean "people's car", but that's beyond the point. What matters is that VW's are perceived as good middle-class cars, not more.  At $80K people buy luxury cars, not just in terms of performance, but image, too.  What were VW thinking ,when they have their own upscale brand, Audi?   This car is clearly an Audi, mistakenly branded Volkswagen.

There is a reason why Honda created Acura, Toyota created Lexus … but I guess VW slept through that class in Marketing.
The 2011 revamped version has just been revealed at the Beijing Auto Show. Hm… if you ask me, this looks more "plain Volkswagen" than the first, failed version.  The company hopes to sell more in China, where Volkswagen enjoys a more upscale reputation, and there is still talk of re-introducing it to the US Market.   It will be interesting to see this.  The Phaeton has lately become popular in Europe, but let's remember that's where people buy luxury Honda's without the need to re-label them as Acura :-) 
Although the new Phaeton is rumored to sell at a lower price then the original (think $60K range vs. $80K+), I still think it will be a tough sell in the US.  Here the folks who want to spend that much on a car don't want a Volks car – they are clearly in the Audi range.