Socialtext, the enterprise wiki company is no more… a wiki company, that is.  Not since Socialtext 3.0, the new release announced today.   Founder and Chairman Ross Mayfield calls his new baby a Connected Collaboration Platform, that's modular, built on a widget framework, and consists of: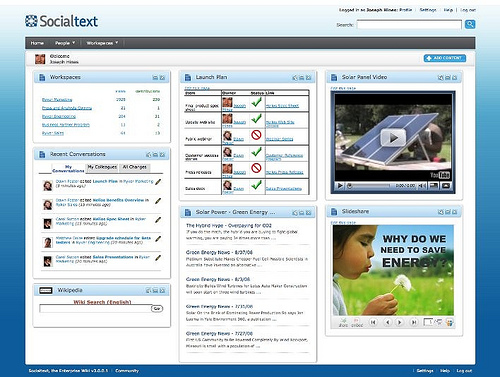 A fourth piece, Socialtext Signals is in the works, in private beta testing – I guess we could call it Twitter (Yammer?  ESME?) for the Enterprise.  Actually more, since it involves active microblogging – quick messages – as well as pulling in what users do elsewhere (FriendFeed?)
The platform is flexible, easy to customize via widgets, clearly the vision is that in an enterprise environment actionable information is pulled in from the transactional systems, too – i.e. ERP, CRM.
Knowing Ross as the uber-social guy something tells me this is what he always wanted to to: create Social Software.  But I tend to agree with Jevon MacDonald, who differentiates social software from the wiki, which is primarily a collaboration tool.  So Ross was really in the collaboration business and given his name became synonymous with wiki evangelism, he will no doubt have a hard time changing that image.

This is not to say the wiki part, should be neglected… It is the primary collaboration facility for anything not well handled by process-driven, transactional systems, and all this social layer is just the glue that holds it all together.  (Hint: you will hear a lot more about Glue soon).
I had in the past been quite critical of Socialtext's wiki component, and am looking forward to revisit it, as part of our wiki-series in the coming weeks @ CloudAve.  In the meantime, enjoy this video:
Related articles by Zemanta