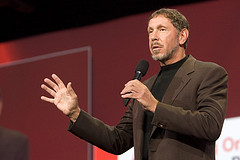 Image by wicho via Flickr
The Enterprise Irregulars took over CloudAve… well, sort of, forcing us to release an article early.  Eran Kampf had a post lined up for Monday morning about Larry Ellison's Cloud Envy, when all of a sudden fellow Irregular  Anshu Sharma had a humor attack and came out with a hilarious post. All he did was replace Cloud Computing with Fusion in Larry's famous rant, and voila!:
"The interesting thing about Fusion is that we've redefined Fusion to include everything that we already do. I can't think of anything that isn't Fusion with all of these announcements. The computer industry is the only industry that is more fashion-driven than women's fashion. Maybe I'm an idiot, but I have no idea what anyone is talking about. What is it? It's complete gibberish. It's insane. When is this idiocy going to stop?"

"We'll make Fusion announcements. I'm not going to fight this thing. But I don't understand what we would do differently in the light of Fusion other than change the wording of some of our ads. That's my view."
Wow.  This variant of Ellison's speech makes a lot of sense, referring to his own elusive Fusion applications.   Even Vinnie Agrees.

Related articles by Zemanta