My readers are predominantly English speakers, as evidenced by this distribution chart: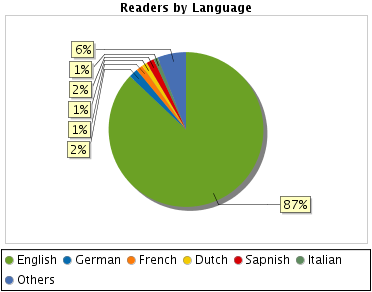 I suspect the 87% English-speaking majority may be exaggerated.  It's based on the browser's default language setting, which many don't bother changing.
Anyway, for the sake of the min. 13%, but who knows, perhaps 20, 25% (?) I've installed Google's Translator.  You can do it too.

Readers then can select a language from the widget,  but the real use case is for visitors whose default browser language is non-English: they will get a bar at the top asking if they would like all content served up in their language.
Machine translation still has rough edges, but it has come a long way, and is generally good enough to give readers an idea of what an article is all about – just forget grammar and style:-)
Here's an example of this post in a few languages:
arito pumunta kami ulit: Ed Bott points out kung paano marahas ito ay para sa Apple na i-install ang tinatawag na "update" sa iPhone Configuration Utility sa isang Windows computer na hindi magkaroon ng software na ito na naka-install, sa katunayan isa na ay hindi kailanman nagkaroon ng iPhone o iPod konektado sa.

在這裡 , 我們又來了: 埃德博特指出 , 如何荒謬的是 , 蘋果電腦將安裝所謂的"更新"的iPhone配置實用程序在Windows計算機上沒有安裝此軟件,其實一個從未有過的iPhone或iPod connected to.

Ở đây, chúng tôi đi một lần nữa: Ed Bott chỉ ra như thế nào thái nó là Apple để cài đặt cái gọi là "cập nhật" vào Configuration Utility iPhone trên một máy tính Windows mà không có phần mềm này được cài đặt, trong thực tế, một trong đó có không bao giờ có một iPhone hoặc iPod kết nối đến.
(I'm sure it's right, whatever it says.

)
Update:  Here's something I missed, but Sandy Kemsley didn't:
If you read this, or other Google Translate-enabled blogs in Google Reader, you can set it to auto-translate there.  Neat.
Related posts: