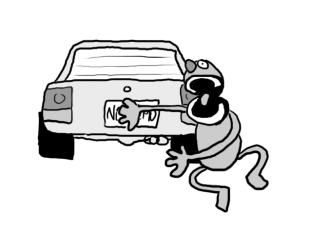 Here's proof that  Governments' creativity in finding new revenue sources is unlimited, reports The Merc:
The California Legislature is considering a bill that would allow the state to begin researching the use of electronic license plates for vehicles. The move is intended as a moneymaker for a state facing a $19 billion deficit.

The device would mimic a standard license plate when the vehicle is in motion but would switch to digital ads or other messages when it is stopped for more than four seconds, whether in traffic or at a red light. The license plate number would remain visible at all times in some section of the screen.
Note: the bill is not passed yet, and it's only about a feasibility study. And guess who would fund the research: the company that would make such licence plates, San Francisco-based Smart Plate.
Forgetting all technical details, visibility and driver distraction issues, a few questions that naturally come to mind: just whose car is it?  ( yeah, I thought so…) Who gets to decide what ads to display or not, and more importantly, who receives the revenue?

Of course once the license plate is electronic, new opportunities about – just look at this research by Accenture, the global Consulting firm:
RFID
Toll Plazas
Parking
Fleet management
Police monitoring..etc.
The last point raises the possibility of another arms race, just like what we've seen with radar detectors, between those wishing to hack the system to fake/shield  their license information and law enforcement…
And here's the business that would certainly benefit: body shops.  Bumper repair prices would sky-rocket, and so would the number of low-speed, bumper-to-bumper accidents.  You know, when the driver behind you has the urge to click the ad you're displaying. 🙂
Oh, well … while you wait for the 2-year research to conclude, you may wish to implement your own solution. (hint: iPad + velcro)
(Cross-posted @ CloudAve)