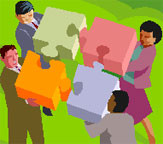 You Know Wikis Have Arrived When …. they become the feature post in your regular junk mail – this time from an Executive Recruiter firm:
What in the World is a "Wiki"?
If you don't know what a Wiki is, you probably should.
The term "Wiki" refers to both a collaborative site on the web or your company's intranet/extranet and the software that runs the Wiki.
A wiki is a website designed for collaboration. Unlike a traditional website where pages can only be read, in a wiki everyone can edit, update and append pages with new information, all without knowing HTML, simply by using a MS Word type interface.
Wikis are the latest, greatest tool for group collaboration, project teams, document editing, etc. And, best of all, they are easy to use, affordable, and extremely flexible.
The easiest way to learn more is to click on the link at the end of this section of the newsletter and try it for yourself!
What can you do with a wiki?
Whether you're at work or at home, you can access and use a wiki. The wiki allows free-form collaboration, but most wiki software providers and hosts also offer structured applications that allow you all kinds of very helpful functionality.
Here are some of the things that can be done (depending on whose software you use and what applications may be available:
Create an intranet
Publish company information, such as news or employee guidelines
Project management
Schedule project deadlines, assign tasks, and define product specifications
Document collaboration
Multiple users author documents with aid of version history
Manage a group's activities
Utilize event calendars, discussion forums, blogs and other apps
Collaborate with virtual teams
Communicate with remote contractors or clients
Track software bugs
Log defects and build custom queries
Call center support
Access case histories and increase customer support
A wiki can be hosted on your company servers or there are a number of hosted versions available. There are a number of suppliers, each touting advantages over their competitors, of course.
One important aspect of a wiki — it is highly cost- effective and versions/solutions range from those for the smallest teams on the most limited budgets scaling up to full enterprise versions.
If you are unfamiliar with this explosive growth phenomenon, you may want to take a look for yourself. [Company name] has found one supplier offering free trials. It's pretty neat stuff and has become indispensable in our own operations. Click the link below for a free trial.
This is not a [Company name] product but we have used the free trial ourselves and had no problems, no hassles, and no sales calls. It just takes 30 seconds or so to sign up.
---
For spam, this is actually pretty good. The original letter pointed to the signup page of one particular provider, and of course the sender forgot to disclose the paid referral relationship … So instead of just one, here's a list of a few wiki providers:
Confluence and Socialtext are both Enterprise Wiki's , robust, well-supported, targeting corporate customers.
JotSpot is more geared towards smaller businesses and consumers and in fact it's a mix of a wiki plus a few basic applications.
Central Desktop is a "wiki without the wiki", more of a full-featured collaboration platform with calendar, task, project ..etc features.
WetPaint blurs the line between wiki, blog and discussion group, providing an amazingly easy to use interface, but it's currently at beta stage.
The above list is by far not complete, it's just a few of the top of my head – feel free to contribute in the comments section.