Zoho releases product updates more or less weekly, and I don't normally write them – frankly, I can't keep track. (I do know, however, that Zoho Sheet that was just a cute but limited editor when I first looked at it is by now way beyond my average spreadsheet needs.)
Today's announcements, however, fit the theme I laid out in the previous post about Microsoft Office, specifically about getting released from Microsoft-prison. They way to get there is to be able to easily work with Microsoft documents (spreadsheet, presentation) formats without the need for bloated and overpriced MS software.
Directly opening/writing to MS formats was the obvious starting point; in the previous post I mentioned Zoho Quickread, a plug-in that allows opening of any MS Office files directly from the browser (IE, FF) without first importing/converting them.
Today Zoho adds plug-ins for MS Office, which allows users to save their work online to Zoho directly from within Microsoft Word and Excel: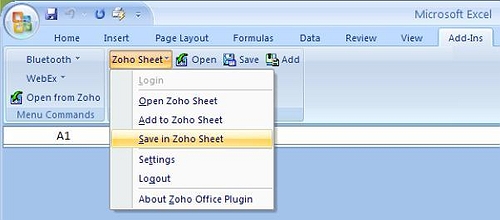 By the same token Zoho documents and spreadsheets can be opened directly in MS Office: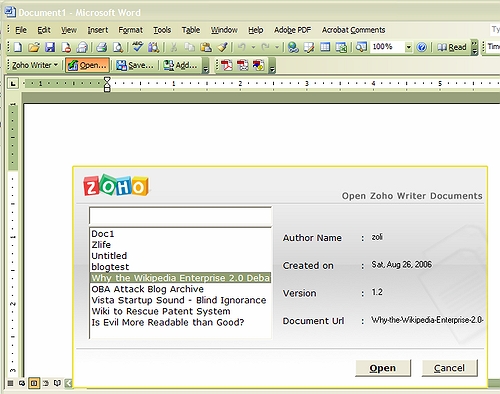 The first version of Zoho's open APIs are also released today. 3rd party applications can now easily be integrated with the Zoho Suite. A good example is when online storage services (OmniDrive, Box.net …etc.) open the documents directly in Zoho and even save them back to their own storage system using the APIs.
Desktopize ( I kind of liked the previous name, Bubbles, as long as it' wasn't referring to Bubble 2.0

) is a good example for productive partnerships. When Desktopize is installed, it creates Zoho icons on the desktop, allows users to click on them and work in Zoho without the browser as if it was a desktop application, close the window and have it minimized to the systray: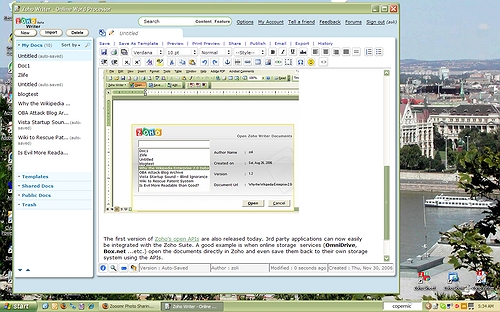 The pic above shows me editing this very article in the desktopized version of Zoho Writer, the Zoho icons in the lower left corner, and the Zoho writer icon in the systray. Desktopize also allows drag-and-drop uploading from your files directly to Zoho Apps.
These are just one day's worth of Zoho updates; to keep abreast, check out the Zoho Blogs.
Related posts:
CyberNet Technology News, Digital Inspiration, The CIO Weblog
(disclaimer: I'm an advisor to Zoho)
Tags: zoho, zoho suite, zoho writer, zoho sheet, zoho plugins, ms office, ms word, excel, office integration, api, open api, desktopize, bubbles, microsoft