Have you ever had to drive to multiple destinations in an unknown area, feeding them in your car's navigation system, only to discover in the end that you just criss-crossed town several times? If you ever:
looked for a house to rent after relocation
had to visit multiple clients in a new job
or just wanted to see some spectacular lights of Christmas ..
I'm sure you know the feeling – like I do. The frustration is over now, if you use Google Maps.
With the addition of multiple destinations, Google has not only caught up with Yahoo Maps but significantly beat it. The killer feature may not be obvious at first glance, so let me present a case study here, planning my imaginary drive starting from the St. Francis hotel at Union Square, San Francisco.
First I input all my destinations, in a random order – say, this is how I pulled it off craigslist. (Click pic for the live view.)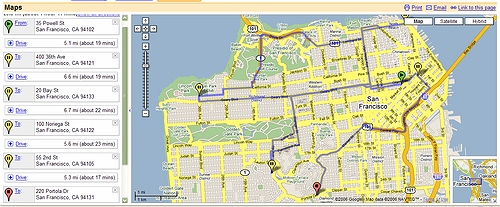 Well, if I followed this order, I'd be crossing the City several times, totaling 29.3 miles. But now that that I have a feeling of what's where, I can start playing with the map: simply drag and drop the destination boxes, and see how Google replans my trip. The second plan cuts down my trip to half, 15 miles!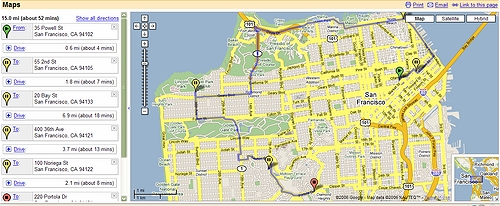 Is there still room for improvement? Perhaps I don't want to cross the Presidio and try the
South-bound semi-circle: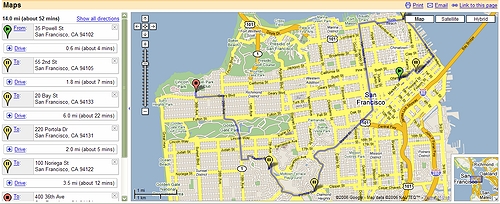 I'm down to 14 miles, which is not a huge difference, and considering traffic, perhaps I take the previous option: it's more scenic anyway.
The final decision is yours: but the ability to plot all destinations, then move them around freely to optimize your route is a clear winner. Google Maps has just Become a smart Trip Planner.
(Now, if only it added real-time traffic data a' la Yahoo Maps

)