Yesterday I went out on a limb predicting that SAP's new On-Demand mid-market offering, codenamed A1S will be a game-changer. ZDNet quoted my conclusion:
My bet is on SAP: they may stumble a number of times, which will effect their quarterly numbers – but in the end, I believe they will succeed. They will become the dominant SaaS player in the mid-market, forcing smaller players like NetSuite down-market. In the next 2-3 years while SAP flexes their On-demand muscles, we'll see just how pervasive SaaS proves in the large corporate market, and that will determine whether A1S remains a midmarket solution or becomes the foundation of SAP's forey into that market – their natural home base.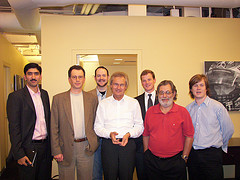 This was the day before the announcement. This morning my fellow Enterprise Irregulars jokingly asked: "Has the world of Enterprise Software really changed?' We did not know the answer than, but now we do: Yes. SAP Business ByDesign is really a game changer. Key reasons:
Breadth of functionality
Fixed, Trasnparent pricing (which, I might add will put the squeeze on Salesforce.com ad NetSuite)
All this coming from SAP, the recognized leaders in automating business processes.
I will soon have more details, but suffice to say the Enterprise Irregulars contingent here came to the same conclusions. Here are the initial reactions:
ZDnet/Software, Rough Type, Redmonk, Computerworld, WSJ.com, ZDNet/IT Project Failures, The Ponderings of Woodrow, ZDNet/Software as a Service, Between the Lines,
Photo: the Enterprise Irregulars with Henning Kagermann, SAP CEO. Credit: Prashanth Rai