It's been over two months now, so I figure it's now or never that I chronicle my migration from Blogware to WordPress.

After getting my feet wet in Google's Blogger over two years ago, I read a post by Des Walsh on why Blogharbor was a great service for a non-techie blogger, which inspired me to do some research, and to switch to Blogharbor. Blogware (by Tucows, marketed through resellers, of which Blogharbor is likely the best) was cutting edge at the time: the ability to drag-and-drop custom components into columns, header, footer gave it flexibility long before WordPress started supporting widgets.
After a year or so I got bored of my layout and was looking for a new template. I wanted a more minimalist one, with flexible width and was surprised to find there were only rigid columnar designs.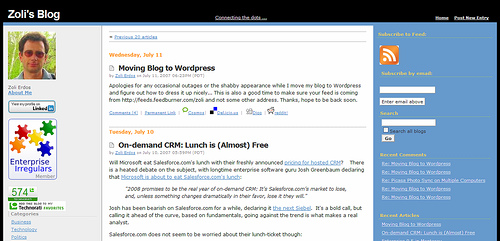 Lesson #1: It pays to go with the market leader, especially if it's open source. WordPress has a thriving ecosystem, with countless themes, widgets, plugins, while Blogware has none. Zero. Only those provided by Tucows, where time seems to have stopped.
Tucows seemed to have abandoned Blogware: no new features, and even bug fixes became rather sporadic. We were struggling with a rather manual spam-filtering process, and system availability has become worse and worse.
We had been using Blogware of Tucows till now, but it has been very limiting in terms of functionality. Besides, Blogware has been experiencing several bugs making it impossible to continue with that service. – says VC Circle.
When your resellers are leaving your platform that should be your first clue that you aren't getting it right. Over the years I've dealt with all kinds of silliness from Blogware… However I hate using any type of support services. They normally are an exercise in aggravation and you have to play the back and forth game… You never know what may or may not work with Blogware on any given day… Blogware service could become a major player with some effort. To me it seems as if no one at the company wants to make that effort…The company doesn't seem to want to support the product. So why not just give up and call it a failure? – says a clearly very aggravated customer who'd still rather not move.
Soon I saw some "big names" leave Blogware and find their new home at WordPress: Chris Pirillo, Tris Hussey, just to name two. And what does it say of Blogware when their former sales manager switches to WordPress?
But as tempted as I was, I was still not ready to jump ship, for one huge reason: the absolutely extraordinary, personalized support I received from Blogharbor. Owner John Keegan always went out of his way and provided support way beyond what could be expected, often not even related to Blogware. I simply wasn't ready to give up such support and find myself "out in the wild", especially not after reading about the migration difficulties Chris, Tris and others experienced. So I sat tight…or should I say I kept procrastinating?
Finally, the solution came from the very same support I did not want to leave behind: Blogharbor's owner decided to venture in the WordPress hosting business, and opened up Pressharbor to a few test customers. The decision was a no-brainer.

.

Now, since I've talked so much about why I left WordPress, I'm sure you expect a description of the actual migration process. I'm afraid I'll disappoint: the migration was a non-event. I made the call, and two days later my blog was up an running on WordPress. Old posts, comments, trackbacks, pictures – Pressharbor took care of it. My main concern was not to lose links, trackbacks to old posts: while Blogware had their own cryptic permalink structure, on WordPress I am using the SEO-friendly title-based permalink formula. Pressharbor set up 301 redirects for every single of my old posts, and in a few days I saw Google reindex all and point to the new permalinks.
Of course there were glitches, but again, Pressharbor dealt with them, and the few remaining issues are not bad enough to keep me at Blogware's dying service. A few of these issues:
Comment author names do not come through, so old comments all look like written by "Anonymous". I did not make a big deal out of this: on a one by one basis when I link back to an older post, I'll fix the comments belonging to those. (Unlike Blogware, WordPress allows me to edit comments, and I've kept an offline reference copy of the old blog)
Probably due to time zone settings, a few of my old posts that were timestamped close to midnight had discrepancies in the new permalink, and this caused the 301 redirect to not find the converted post. Pressharbor fixed all these.
Duplicate message body. This was a weird one, and took a while to find the reason. If the original Blogware post contained an excerpt, WordPress appended the excerpt to the message body, causing redundancy.
There may have been other glitches, but generally there were few, and with the exception of the "anonymous" comments, Pressharbor fixed all of them.
One lasting, unpleasant side-effect of the migration was losing my Technorati authority. It was close to 600 prior to the migration, and immediately after it went into a free-fall. Several bloggers think Techno Ratty does not follow 301 redirects well, and there is no authoritative answer, since they don't bother responding on their user forum. Not that it matters a lot: Technorati is slowly but surely falling apart and becoming irrelevant anyway. (Update: while I'm writing this, today my authority started dropping again, to the tune of 40 points in a matter of a few hours).
Last, but not least, first impressions of a WordPress user. Whoa… this is liberating… confusing .. scary. Blogharbor converts, coming from a very limited but full-service world will find the whole concept of plesk, site management, FTP … etc overwhelming – I know I did. But choice is great. Being the picky guy I am, I did not like the dozen or so default themes, and finally settled on Genkitheme, a three-column, fluid, lightweight theme by ericulous. Back in those days Eric, the author used the same theme, his blog was a regular free blog, and he went the extra mile (or two) to offer free support to his users. Perhaps too much… so he ended up converting the blog into a more commercial site and is now offering support for a fee ( man's gotta eat…).
Widgets were and still are somewhat of a disappointment. It was easier to install them on Blogharbor as "custom components". But considering the increased supply, it's a good balance, after all.
The flexibility of changing your blog's behavior via plugins is great – but there is a jungle out there. There are far too many poorly documented plugins that do not correctly specify up to which WordPress release they work. Part of the problem was being ahead of the curve: while it's generally not a good idea to go live on "alpha" software, ate Pressharbor we started to use WordPress 2.3 (then alpha) from day 1, to avoid converting twice in a short time. Since 2.3 brings about major table changes (categories, tags), it breaks a lot of plugins, in fact most of the themes I tested also produce database errors. The ecosystem is not quite ready for 2.3 – I hope it will change in the weeks to come. Oh, well: no update, broken plugins, tag conversion or even upgrade party here – I'm all done.
Summary: I'm here and I like it. I'm a WordPress fan now. If you'd like a full-featured WordPress blog, i.e. want more power than wordpress.com offers, but don't want the hassle of running it yourself, check out Pressharbor. You'll get the best service you can.