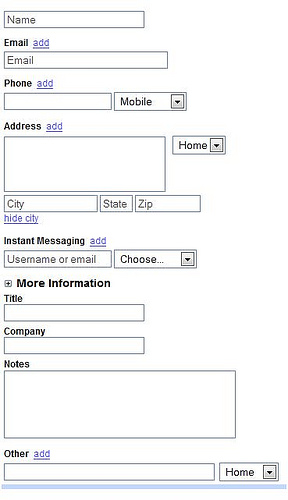 I find it hard to believe…so much so that I ask everyone to open my eyes: what am I missing here? Gmail's Contact Manager (the new one) allows you to capture the typical data like email, phone, address, photo ( a great plus!), IM, but there's no field to capture homepage addresses! (???).
You can add as many fields as you like, but only of the pre-defined types, and if you use the Notes field to enter websites, they don't become clickable URLs.
Of all companies on Earth, Google is the last one I would expect to NOT care about capturing web information…
Update: Charlie "Spanning" Wood adds:
…worse yet, it uses one big blob for mailing address instead of having fields for address, city, state/region, postal code, etc.
And we wonder why it's difficult to sync Gmail contact data…
Voyagerfan5761 adds that the ability to add custom fields, a handy feature supported in the earlier Gmail version is gone now, too.
Add to this the idiotic restriction that now you can only delete 20 contacts at a time, and one can really wonder if the new Contact Manager in Gmail is a step back in functionality – albeit with nicer boxes.

(Oh, you wonder why you'd want to delete contacts? Because Gmail adds anyone you respond to as a contact, without the ability to change that default).