Yes, the title isn't a mistake: TechCrunch is no longer just powerful media, Mike now can single-handedly release new products.

.    Today I spent several hours testing a pre-release product, Zoho Invoice, which was a few weeks from it's planned launch, when TechCrunch accidentally posted the news. The Zoho Team decided to play along, and instead of disappointing TC readers with a broken link, opted to release the product immediately.
Not exactly an orderly Launch, but not the end of the world either, especially not for Zoho, which has a reputation of updating their web-based products frequently. In my early testing today I found Invoice easy to use, with a soothing, pleasant UI where all the icons are in the right place and support the right information flow.   There are some features that were still under consideration as of this afternoon – so be it, this is a "forced" early release, updates and fixes will no doubt be coming soon (using the Feedback button at the top will help issues get fixed quickly).
So what do we have here? Essentially a billing application, that allows the user to create /import Clients, define items (product/service), generate estimates, convert them to invoice and accept payment against it. The Home screen is a Dashboard, providing a quick financial overview: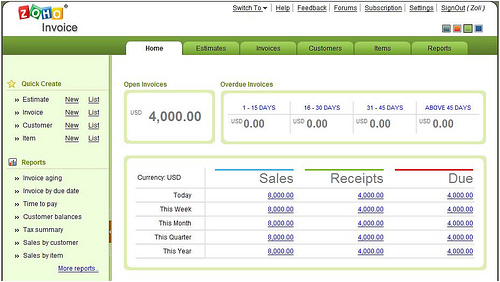 Information flows easily from one document to another, and there are a number of predefined (customizable) templates that can generate notification emails to the Customer at any stage. Notice the icons change on these two bars:


The Estimate (emailed or snail-mailed to the Customer) can be converted to an Invoice, but when displaying an Invoice, there's a new icon there to enable entering a payment received.
There are transactional detail, summary, aging ..etc reports to help keep tight control of your receivables.
Although Zoho is primarily known for being the best Web-based Office / Productivity Suite provider, they are not exactly new to transactional business systems: their longest standing product is Zoho CRM (which is an understated name for a mini-ERP), the recently announced Zoho People, and a more full-featured Accounting system is in the works, too.   Talk about CRM, it already has some Invoice functionality, which will later be replaced by the new module, to be integrated with CRM.   For now, Zoho Invoice is integrated with Projects.
The slideshow below explains the setup, various functions and the workflow between them (click the lower right corner to switch to full-screen):
The new billing application is free up to 5  invoices a months, and there is a pricing scale depending on the number of invoices per month, from $5 incl. 25 invoices to $35 up to 1500 invoices.

The two notable competitors are BlinkSale and FreshBooks.  Zoho will no doubt build on the fact that Invoice is just one piece in the puzzle of 16 or so business applications it has to offer.
(Disclaimer: I am an Advisor to Zoho)
Related posts:  Webware.com, Enterprise Alley, Venture Beat,  Zoho Blogs,
Related articles by Zemanta