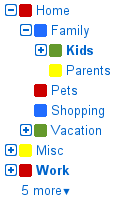 If you really think about it, there's not much of a difference.  They are more or less the same.
Folders are a very old metaphor, as old as email and documents are.  Early email systems physically kept folders in separate files, and even when they were no longer separate files, basic functions like sort, search were limited within individual folders.  We got boxed in to physical folders.
The big break away from this, introduced by Gmail's label concept was flat storage of email with only logical labels – but because labels were no longer physical containers, you could assign any item (email) to multiple folders.
The more traditional "folder-camp" was missing some of the good old attributes: drag-and-drop, nested folders (aka hierarchies)..etc – and lo and behold, little by little they all go it, the final step being the release of nested Gmail folders today.  Now tell me the difference between Folders and Labels.   They are one and the same, Labels are just more flexible Folders.
Actually, and to take this a few steps further, I've said before:
All folders are labels, but not all labels are folders.
But of course it's all semantics … and I don't want to quote my posts from a year ago … I suggest you read it (yes, shameless self-promo) because in the original post I laid out quite a few concepts for the improvement of folders / labels / tags .. whatever we call them.
I'm glad to see some of those concepts have become reality….
(P.S. Zoho – exclusive sponsors of CloudAve-  have been offering both folders and labels for a while in their Mail service, albeit kept separately.)
(Cross-posted @ CloudAve )